Get involved on the Fergus Falls campus! In addition to student life organizations, you'll find an amazing array of fine arts and athletics activities on our campus.
You'll also find:
Intramural sports

On-campus housing

Dining services

Disc golf course

Campus store and student food shelf

Student lounge and other comfy study spots

Fitness room available at no additional cost

And… lots of other fun campus activities and events throughout the year!
What's happening at M State Fergus Falls
There are lots of ways to know what's happening on campus:
Weekly Newsletters – The M State Messenger is a weekly newsletter with the latest news and activities for students. This gets sent directly to your M State student email account when class is in session.
Social media - All of our social media outlets share prize drawings, contests and information you can't get anywhere else. Be sure to follow us today!
Facebook - Our Facebook page has information about upcoming events and often will feature snippets from upcoming artists.
Snapchat - Subscribe to see what's going on around campus @ MStateFFLife.
Calendar of Events – This includes some of our larger campus events for the 2022-2023 academic year. Be sure to monitor the weekly newsletter and social media for other activities and details!
January 2023

Monday, Jan. 9 - Back to the Grind Table. Stop by the Legacy Hall entrance after 8:30 a.m. for a quick treat to fuel your first day back to class!

Thursday, Jan. 12 - College Survival Kit Bingo.  12:30-1:30 p.m. in Fireplace Lounge. Start the spring semester off right by playing for a chance to win one of 10 college survival kits! Stop by for a round in-between classes or stay the whole game (limit one prize per student).

Thursday, Jan. 26 - Rock n' Bowl. 9-11 p.m. at Northern Aire Lanes. Free bowling, pizza and soda with M State Student ID. Guests welcome for an additional $10.

February 2023

Wednesday, Feb. 1 - What's a-peeling about SGA? From 12:30-1:30 p.m., stop by the free Baked Potato Bar in Fireplace Lounge to find out!

Tuesday, Feb. 14 - Valentine's Day Trivia. 11 a.m.-2 p.m. by the Cafeteria. Happy Valentine's Day from SGA! Stop by for your chance to answer a themed trivia question! Get it correct and help yourself to an extra special treat! Also, watch @MStateFFLife on Facebook or Instagram for your chance to be entered into a drawing to win a stuffed bear.

Wednesday, Feb. 22 - Free Pizza 4 Free College. From noon-1:30 p.m. by the Cafeteria. Come get free pizza and learn about LeadMN's campaign to make college free to all Minnesotans. Hosted by SGA.

Thursday, Feb. 23 - Virtual Bingo at noon. Watch M State emails for the link.

Monday, Feb. 27 - M State Movie Night. Westridge Theatre is opening its doors for a private M State showing of "Ant-Man and the Wasp: Quantumania!" Doors open at 7 p.m., movie showing at 7:15. Enjoy free entry and a concession item with your M State Student ID. Guests welcome for an additional $8.

March 2023

Thursday, Mar. 23 - Rock n' Bowl. 9-11 p.m. at Northern Aire Lanes. Free bowling, pizza and soda with M State Student ID. Guests welcome for an additional $10.

Wednesday, Mar. 29 - Virtual Bingo at noon. Watch M State emails for the link.

Wednesday, Mar. 29 - Dance Party. 8-10 p.m in the Cafeteria. Have all the fun of last fall's homecoming dance... INDOORS! Also, did we say free snacks? Sponsored by PTK and SGA. All M State students are invited.

April 2023

Monday, Apr. 10 - The Asia Project: Spoken Word Performance. Showtime at 7:30 p.m. in the Waage Theatre. Celebrate poetry month w/ Asia Samson while he blends poetry and music into a show that's both inspirational and moving! Enjoy free pizza before the show at 7 p.m. in Legacy Hall.

Wednesday, Apr. 12 - Student Leadership and Social Impact Awards Ceremony. 2:30 p.m. in Legacy Hall. Support your fellow students, see the MCAC All-Academic Team, and learn who won the SGA 2023 Staff and Faculty of the year awards! Free cheesecake, pastries, and fruit will be provided at a reception following the ceremony. For more details on the awards, visit the following page: https://www.minnesota.edu/student-awards.

Wednesday, Apr. 26 - Earth Day Goodie Bags. 11 a.m.-1 p.m. by the Cafeteria. Make everyday "Earth Day" with SGA! Stop by to pick up your goodie bag.

Monday, Apr. 29 - Dodgeball. 7:30-9:30 p.m. in the Gym. Relieve some "pre-finals" stress during friendly games of dodgeball! 

May 2023

Thursday, May 4 - Graduation Ceremony. 2 p.m. in the gym.

Thursday, May 4 - Graduation Reception. Immediately following the ceremony in Legacy Hall. Enjoy light refreshments, take photos, and say your final goodbyes at a reception sponsored by Student Government Association (SGA.)
Fergus Falls Student Government Association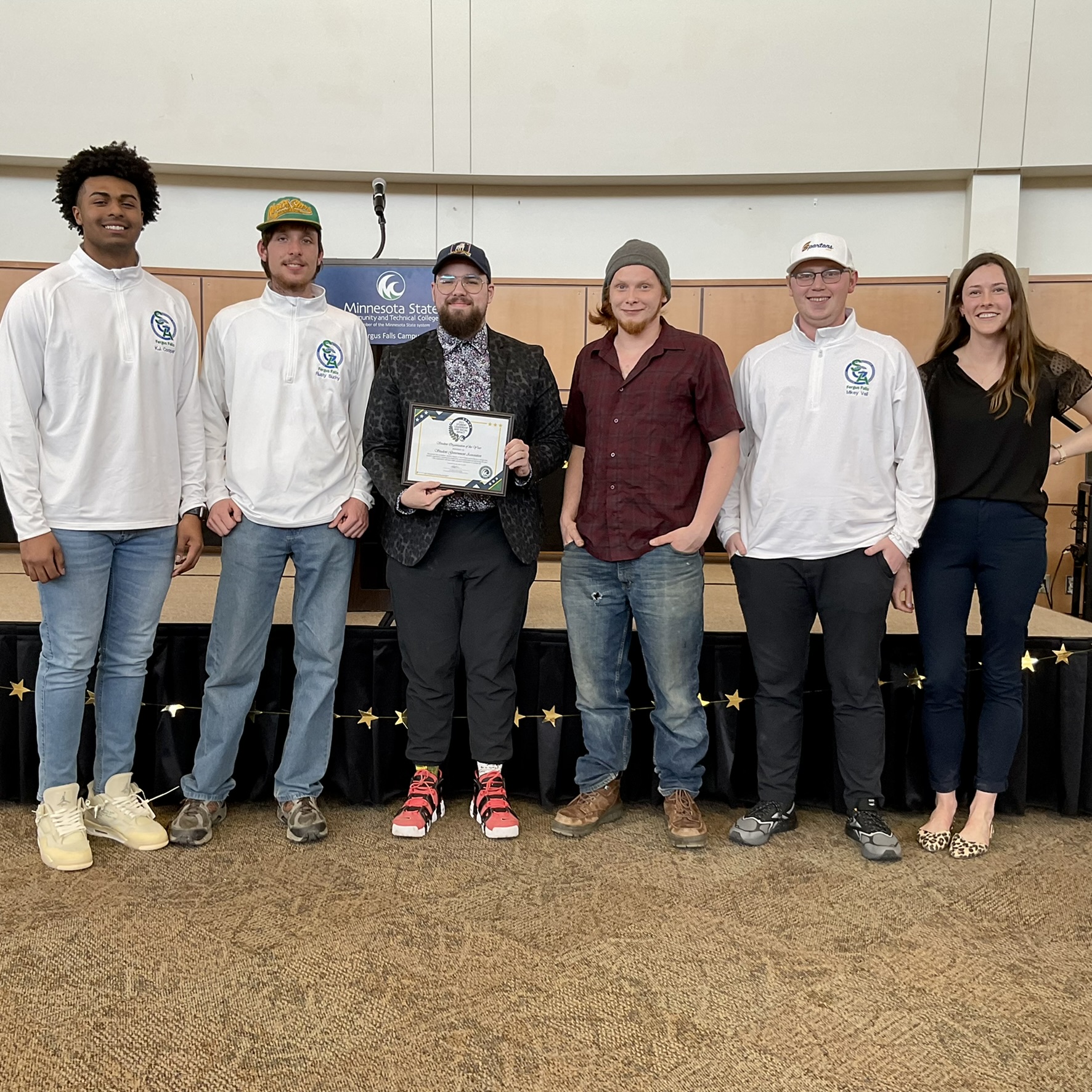 The Fergus Falls campus Student Government Association (SGA) is a group of elected students who work closely with administration to provide the best possible college experience for all students. Their responsibilities include event planning, addressing issues and overseeing the student life budget. They operate under the M State SGA constitution and bylaws, and decisions are made by voting.
SGA Meetings for Spring 2023 Semester:
Wednesdays from 1:30-3 p.m. in S436 and via Zoom.
All students are welcome to sit in on the meeting or request time to bring forward an issue. Email Lauren Proels or SGA with any questions or for the weekly meeting Zoom link. Questions or concerns about your college experience can also be conveyed by emailing Lauren Proels or SGA.
Apply to be an SGA Senator today!
Fergus Falls campus organizations
Joining a club or organization on campus can be a great way to meet new people, build your resume and gain new experiences! Interested in joining one of these groups? Please contact the advisor directly to get more information on meeting times and locations.
Want to start a new club or organization? These are student-led, so you can work toward starting up a new club on campus. Please see the Student Clubs and Organizations packet for more information.
For any other questions, contact Lauren Proels.
ADN (Nursing) Organization
Advisor: Alisa Beckman
A support group for students in the ADN program that also serves M State through fundraisers and service projects.
CRU (Campus Crusade for Christ)
Advisor: Jason Retzlaff
CRU gives students an opportunity to explore topics pertaining to faith, spirituality and Christianity.
PTK (Phi Theta Kappa)
Advisors: Jodi Kramer
Honor society that recognizes students of academic excellence.
SGA (Student Government Association)
Advisor: Lauren Proels
Elected representatives who advocate for the students of M State.
Fergus Falls campus activities
Fine arts
Fine arts opportunities for students include Chamber Chorale, Concert Choir, Voice Ensemble, Concert Band, Jazz Band and Theatre.
Intercollegiate athletics
The college is a member of the Minnesota College Athletic Conference (MCAC) and Region XIII of the National Junior College Athletic Association (NJCAA). Teams are located on the Fergus Falls campus but open to M State students on any campus. Men's teams represent the college in football, basketball, golf, baseball and clay targets. Women's teams compete in softball, volleyball, golf, basketball and clay targets.
Intramural athletics
Intramural sports can include basketball, volleyball, flag football, soccer and bowling.