M State Transfer Pathway degree options
If you plan to complete a four-year degree after attending M State, you can save thousands of dollars on the cost of your bachelor's degree with an M State Transfer Pathway degree.
When you earn a pathway degree and are admitted to any of the seven Minnesota State universities, you will be guaranteed junior status and be assured that your 60 credits will directly transfer into your designated bachelor's degree program.
You save both time and money – without losing credits or taking extra courses – and have the flexibility to attend classes on campus or online.
All courses in the Transfer Pathway associate degrees will directly transfer and apply to designated bachelor's degree programs in related fields at:
Bemidji State University

Metropolitan State University

Minnesota State University, Mankato

Minnesota State University Moorhead

Southwest Minnesota State University

St. Cloud State University

Winona State University
M State currently offers:
Why earn a Transfer Pathway degree?
The advantages of earning a Transfer Pathway degree at M State include:
You'll enjoy a four-year college experience on a two-year college campus

Small class sizes mean a personalized education

Our low cost per credit makes M State an exceptional educational value

You'll have an opportunity to explore your career interests

Courses are taught by faculty with master's or doctorate degrees in their field of study

Spartan Centers offer academic assistance on all M State campuses

Online courses and tutoring are available

Student life activities provide opportunities for campus involvement

Scholarships are available

Faculty and staff help students build a solid foundation for success at a four-year university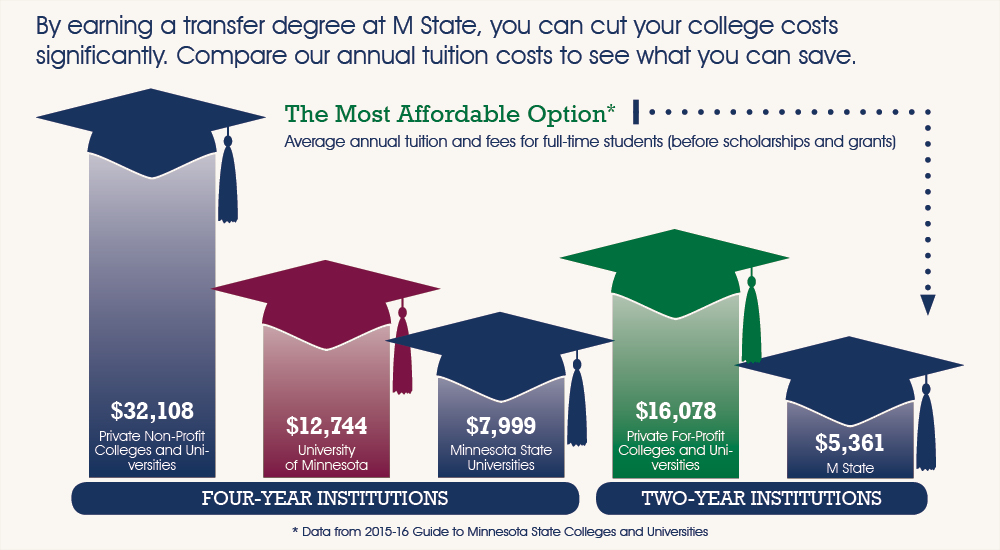 Other M State transfer degree options
If you are interested in a bachelor's degree not addressed by a Transfer Pathway, M State offers other AA, AS and AFA transfer degree options.
Transfer Pathway degrees may transfer to colleges and universities outside of the Minnesota State system, such as private and out-of-state schools. It is highly recommended that students interested in this possibility contact their intended transfer school, advisor/counselor, and program instructors for academic planning assistance.