Applying to the Practical Nursing program
Review the application packet and application deadlines.
Complete the Practical Nursing program application.
Practical Nursing application deadlines
M State's Practical Nursing program is offered on the Moorhead campus only.
Program start
Fall 2019 application
Spring 2020 application
Priority deadline
Feb. 15, 2019
Aug. 1, 2019
Secondary deadline*
Oct. 15, 2019
* Secondary deadline applications will be reviewed regardless of program spot availability after priority deadline review.
** Extended deadline will be posted only if program spots are available after priority and secondary deadline review.
We encourage prospective nursing students to contact our Support Center at 1.877.450.3322 or info@minnesota.edu with questions regarding the application process, including admission eligibility criteria, very early in the process.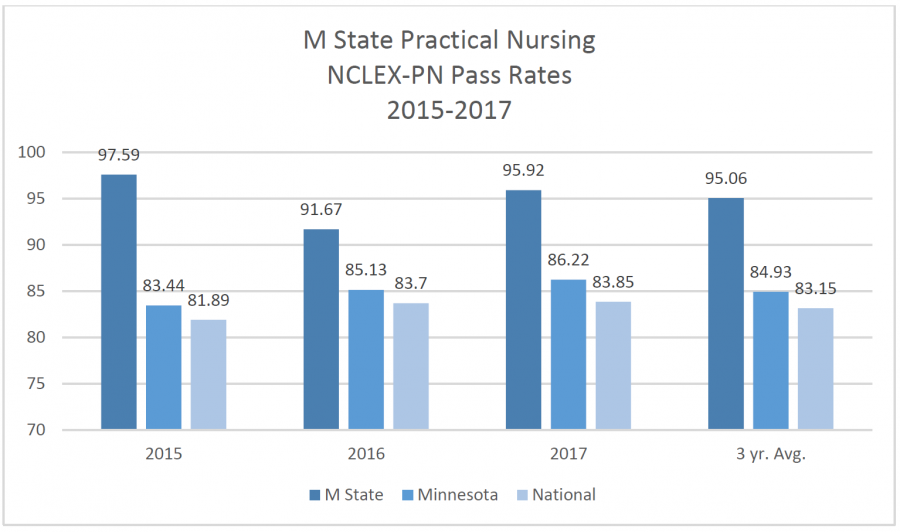 Practical Nursing program
The Practical Nursing diploma program is 40 credits and can be completed in two semesters. Upon completion of the Practical Nursing program, students are prepared for licensure as a practical nurse and careers in long-term care centers, acute care and ambulatory care facilities.
The program prepares students to practice nursing under the supervision of a registered nurse (RN), providing direct patient care in hospitals, nursing homes, clinics and home- and community-based facilities. Students are eligible to take the National Council Licensing Exam-PN following graduation.
Students who complete the M State Practical Nursing program can continue their education at M State to become a professional nurse through the ADN-Advanced Standing Option.
Background check required
State law requires that students having direct contact with individuals in licensed institutions complete an annual background study with the Minnesota Department of Human Services. Students also are required to complete a national background check and may be required to complete a federal background check as directed by clinical facilities. Students will be provided with instructions prior to starting the program. The $45.75 fee for the national background check is incurred by the student at the time the background study is submitted.Students who do not receive cleared background checks will not be allowed to participate in clinical or service learning activities and thus are not eligible for graduation.