Road trip! SBDC directors to visit six West Central Minnesota communities March 15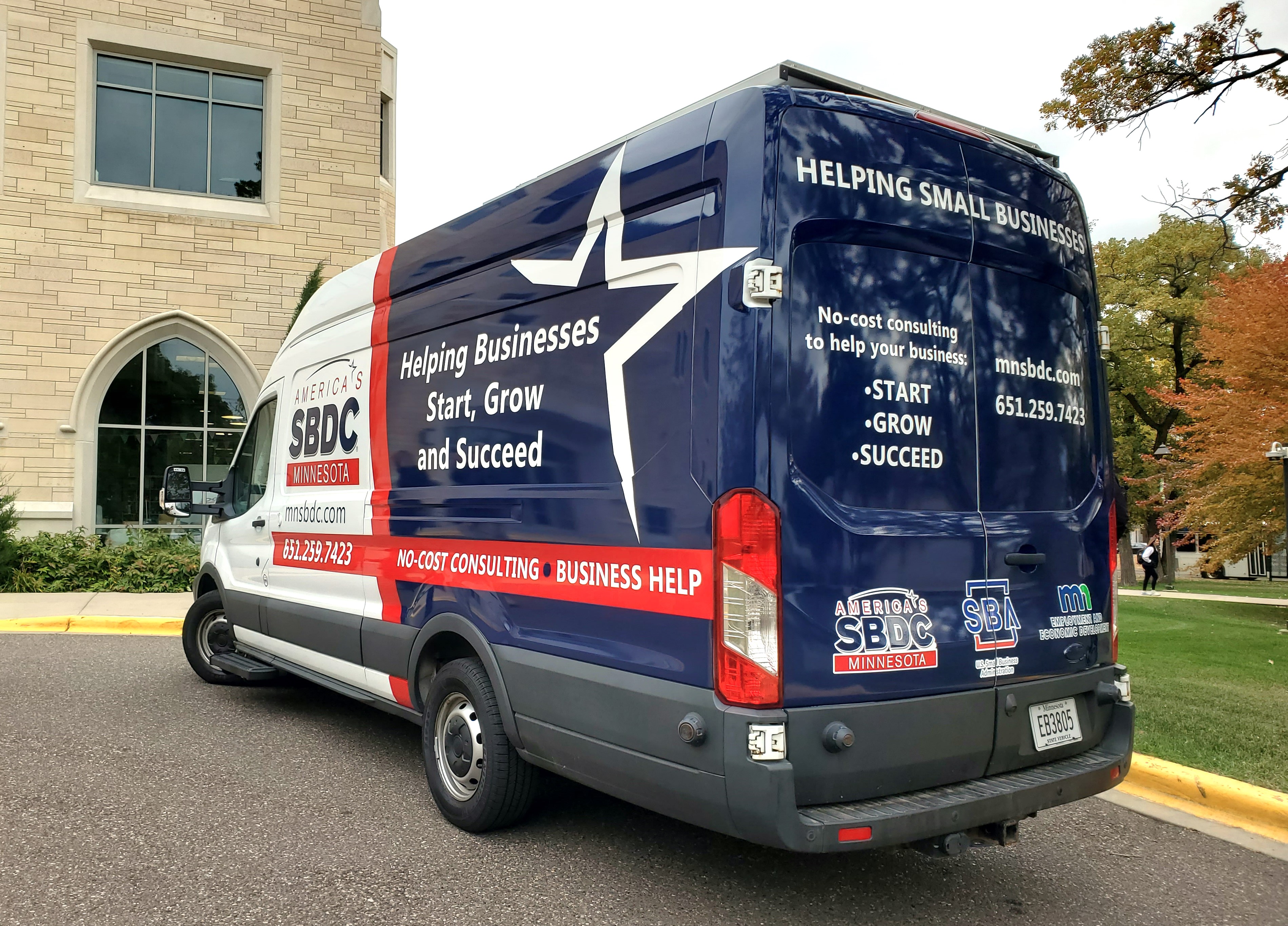 Directors of the West Central Minnesota Small Business Development Center, or SBDC, will be embarking on a road tour in honor of national SBDC Day on March 15, stopping in several communities around the region to hold friendly meet-and-greets with stakeholders, small business owners and other supporters.
Regional SBDC Director Ian Carlstrom and Associate SBDC Director Amy Anderson will be touring in style, driving an SBDC mobile unit that Minnesota's nine regional SBDC offices share. The directors will be making 45-minute visits at venues in Moorhead, Detroit Lakes, Perham, Alexandria, Fergus Falls and Barnesville.
The tour is intended to raise awareness of the SBDC's beneficial impact on the region, as well as to help spread the word of the regional SBDC office's new host site, M State, and introduce Carlstrom and Anderson in their new roles with the organization.
"We're excited to get out into our local communities to meet with our SBDC partners, share success stories, and continue to build relationships throughout our service area," said Carlstrom. "SBDC Day is a national, collective proclamation of the impact that SBDCs have on the lives of entrepreneurs and other dreamers and innovators."
"This is an opportunity to reconnect with entrepreneurs and other key stakeholders throughout our region and in our new roles with our new host, M State," said Anderson. "We're making stops in six key communities across the region, and we hope that everyone who can make it will stop by and see us."
The Wednesday, March 15 road tour schedule is as follows:
8 a.m. – Moorhead (M State campus, 1900 28th Avenue South)

9:45 a.m. – Detroit Lakes (M State campus, 900 Highway 34 East)

11 a.m. – Perham (Perham Area Chamber of Commerce, 185 East Main)

1 p.m. – Alexandria (Alexandria Area Economic Development Commission, 324 Broadway Street #101)

2:45 p.m. – Fergus Falls (The Foundry, 101 West Lincoln Avenue)

4:15 p.m. – Barnesville (Barnesville Economic Development Authority, 202 Front Street North)
Previously hosted by Concordia College, the West Central Minnesota SBDC opened its new headquarters at M State's Moorhead campus at the beginning of January, in room B163. Satellite offices are expected to open at the college's Detroit Lakes and Fergus Falls campuses within the next few months.
SBDCs connect small business owners and entrepreneurs with federal, state and local government resources along with the resources and knowledge of higher education institutions, economic development organizations and the private sector. The national SBDC program is the country's largest small business assistance network.