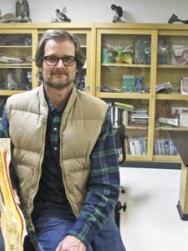 Biology and Equine Science Faculty
(218) 736-1589 - Fergus Falls
Professional information:
Dr. Tom Prieve is the coordinator of M State's Equine Science program and also teaches classes in the college's Sustainable Food Production and Associate of Arts programs. Before joining the M State faculty in 2005, he was a private practice veterinarian in food animal and equine practices in Minnesota and South Dakota. He graduated from the University of Minnesota with a bachelor's degree in 1982 and from its College of Veterinary Medicine in 1984.
"Teaching at M State gives me the opportunity to engage the students in a real-life working environment. Skills education that is supported by rigorous academics is what we are all about. Our motto here is 'let's get real.' We offer hands-on education that is not available at most traditional liberal arts universities."
Contact