Automotive Service Technology
Train for your career in the automotive industry in M State's state-of-the-art Transportation Center.
Body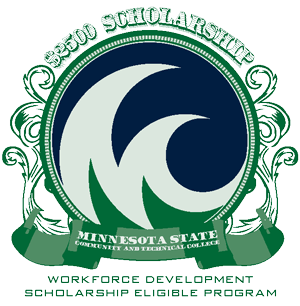 As a student in M State's Automotive Service Technology program, your training will focus on the diagnosis, repair and preventative maintenance of cars and light trucks. Program instructors are highly skilled with years of experience in private industry, and our graduates are recruited by businesses throughout the region.
Both an Automotive Service Technology AAS degree (72 credits) and an Automotive Service Technology diploma are offered on our Moorhead campus, where you'll get your training in our state-of-the-art Transportation Center.
An advisory board comprised of local and regional industry members reviews our curriculum, ensuring that students learn the skills needed by employers. The program and instructors are NATEF/ASE certified in all eight areas of automotive service.
Here is what you'll learn
Understand vehicle operating system theories
Diagnose vehicle operating system problems
Repair vehicle operating systems
Interpret service information
Auto student on the road to a dream-come-true after winning grand prize drawing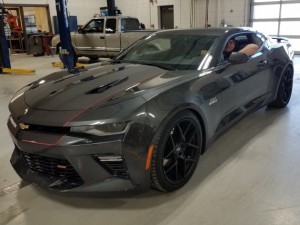 The luck of the draw has put some muscle into Hunter Hedstrom's plans for his career following his upcoming graduation from the Automotive Technology program at Minnesota State Community and Technical College.
Hedstrom and two dozen classmates and instructors traveled in late October to the annual SEMA (Specialty Equipment Market Association) Show in Las Vegas, where he says he entered vendor drawings "for everything I saw" at the automotive trade show. About six weeks later, he was stunned to get a call with the news that he'd won the grand prize - a Valvoline 2017 Chevrolet Camaro from the PowerNationTV show "Detroit Muscle."
"She had to explain to me that this was real, and I wasn't getting scammed," Hedstrom says, laughing. "It didn't really sink in until I was flying down to Tennessee to pick up the car."
Hedstrom, a Detroit Lakes native, attended the SEMA Show with the Auto Club on the Moorhead campus, where he is a second-year student and planning to graduate in May.
M State auto instructor Scott Ripplinger, who arranged the SEMA trip with fellow instructor Dennis Miller, said they try to plan visits to industry events for their students every other year.
"Our hope is to make it as much of a learning experience as possible by exposing students to current industry trends and environment while teaching them some basic skills and camaraderie," says Ripplinger, a long-time resident of the Fargo Moorhead area who has worked in the automotive service field for 31 years.
Hedstrom flew to Nashville to pick up his muscle car in early January with his father, James, a Detroit Lakes insurance agent. "I drove through Minnesota in the middle of a blizzard," he says. "Roads were slick, and snow was flying." (And yes, he had full insurance coverage on the car.)
Cars have long been a passion for Hedstrom; he's done extensive work on his 1979 Bronco, and he enjoys turning heads with his "fun summer car," an Italian Lancia Beta coupe. He's found a home in M State's auto program, where he has a bond with classmates and instructors that he says are "some of the best teachers I've ever had."
While he works at an auto parts dealership and plans for life after college, Hedstrom is considering selling his Camaro to finance a dream: owning his own shop where he can build and sell cars.
Posted Feb. 26, 2019
Meet the faculty
Employment Data