Associate Degree Nursing
The Associate Degree Nursing program is designed to prepare students to deliver nursing care in a variety of settings as registered nurses.
Body
The Associate Degree Nursing program is designed for students with no previous nursing experience who are seeking to become registered nurses. Our Detroit Lakes, Fergus Falls, Moorhead and Wadena campuses offer the two-year Associate Degree Nursing program. The Associate Degree Nursing program is designed to prepare students to deliver nursing care in a variety of settings as registered nurses. The graduating nurse will be able to provide nursing care in hospitals, long-term care centers, clinics, community health and other health-related facilities. 
The Minnesota Board of Nursing has officially approved the Associate Degree Nursing program at M State.
Whether you are beginning your nursing career or continuing your professional nursing education, M State provides you with an excellent educational experience.
While all students are welcome to apply to M State's nursing programs, acceptance is selective. 
Nursing application information
Spring 2024 Associate Degree Nursing - Application information - Deadline - Apply (Application closed on Oct. 15.)
Fall 2024 Associate Degree Nursing - Application information - Deadline - Apply
Applicants to the Associate Degree Nursing program must have completed the following three courses within the five years prior to their start date/acceptance into the core program: BIOL 2260/2261 Human Anatomy and Physiology I Lecture/Lab; BIOL 2262/2263 Human Anatomy and Physiology II Lecture/Lab; BIOL 2267/2268 Medical Microbiology Lecture/Lab.
Program outcomes
Nursing judgment: Demonstrate the ability to make nursing judgments using evidence-based research and clinical reasoning for quality patient care across diverse populations.
Patient-centered care: Recognize the patient as the source of control and a full partner in providing compassionate and coordinated care based on respect for patient preferences, values and needs.
Teamwork and collaboration: Function effectively within nursing and inter-professional teams, fostering open communication, mutual respect and shared decisions to achieve quality patient care.
Safety: Promote quality care and a safe environment for diverse populations of patients, self and others through system effectiveness and individual performance.
Quality improvement: Participate in quality improvement to support effective and efficient health care services.
Professionalism: Demonstrate accountability to professional nursing values by adhering to legal and ethical principles and participating in continuous professional development.
Technology: Utilize information and technology to communicate, manage knowledge, mitigate error and support decision making.
Leadership: Apply nursing leadership concepts in the provision of high-quality care to individuals, families and communities.
Nursing accreditation and approval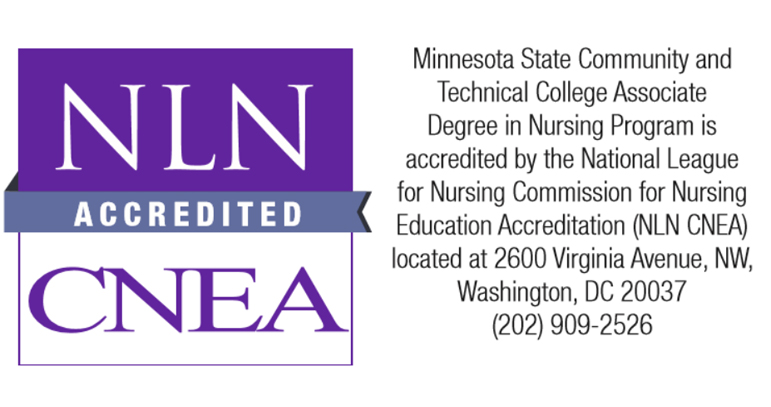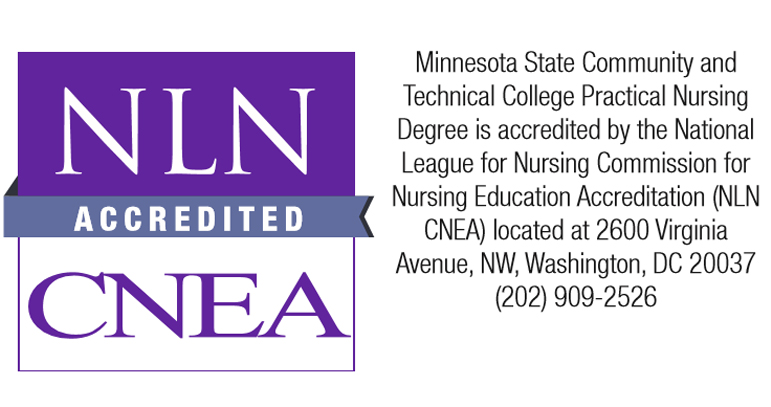 The M State Associate Degree in Nursing and Practical Nursing programs are accredited system-wide by the National League for Nursing Commission for Nursing Education Accreditation (NLN CNEA) 2600 Virginia Avenue, NW, Washington, DC 20032, 202-909-2526.
All M State Nursing programs are approved by the Minnesota Board of Nursing.
The Associate Degree and Practical Nursing programs at M State is approved by the Minnesota Board of Nursing and holds accreditation with the NLN Commission on Nursing Education Accreditation.
Educational requirements for initial licensure
The Associate Degree Nursing and Practical Nursing curriculums meet educational requirements for professional licensure or certification in the states of Minnesota, North Dakota and South Dakota. Additional information for licensure and/or certification in other states can be found here.
DOE Requirement Nursing Program - States
NCLEX first-time test taker pass rate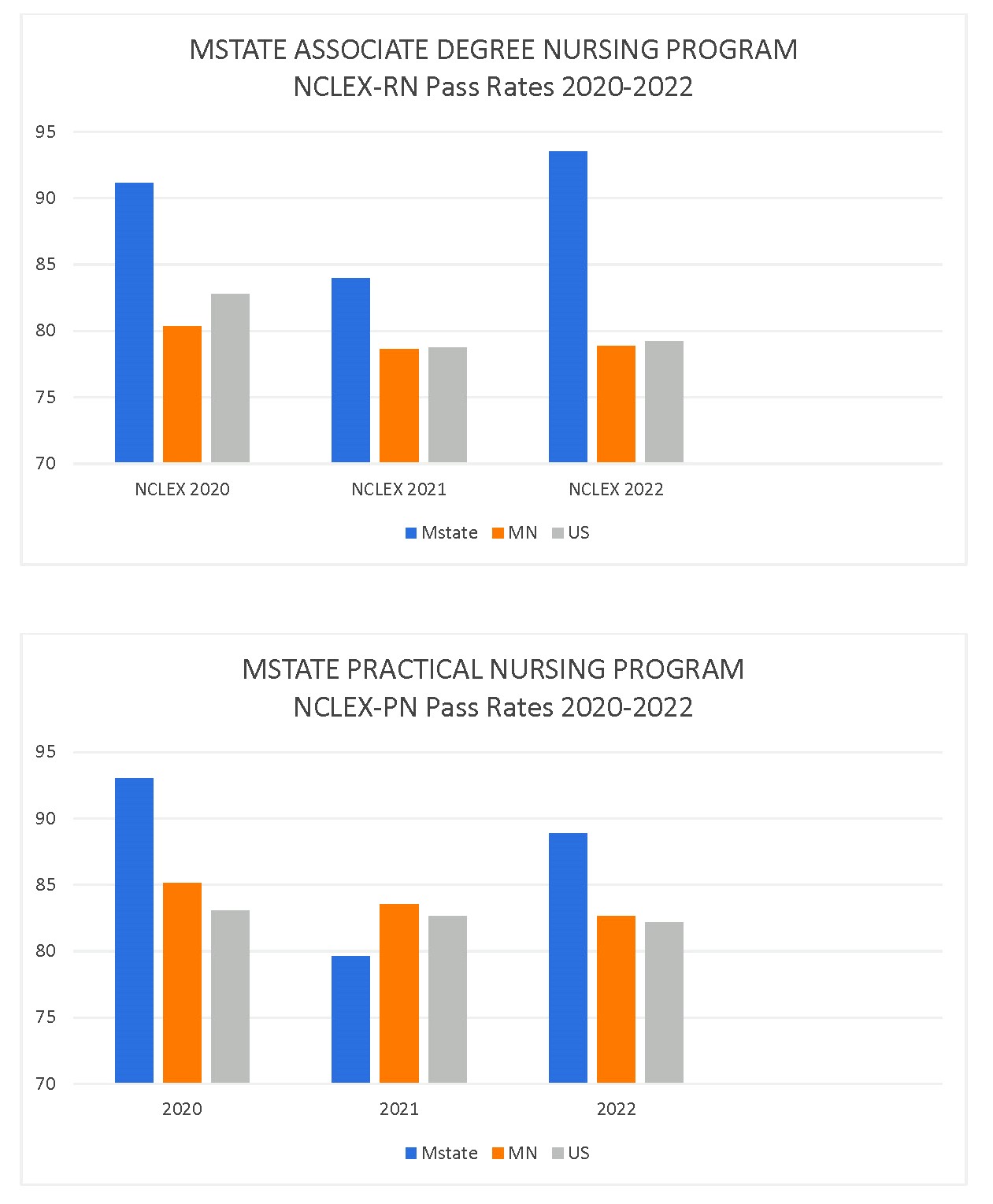 Advancing your nursing career
Graduates who earn an associate degree in nursing are eligible to apply for admission to baccalaureate nursing programs through articulation agreements with colleges in the Minnesota State system as well as other colleges and universities outside Minnesota. A bachelor's degree offers nurses increased opportunities in management and community settings.
M State partners with MSUM on Dual Acceptance Program
M State has partnered with Minnesota State University Moorhead to be designated as a Dual Acceptance Program, making graduates of M State's Associate Degree Nursing program eligible for automatic acceptance into MSUM's RN-BSN program.
For M State ADN students, this new partnership offers the advantages of:
A seamless, efficient and cost-effective transition to MSUM's RN-BSN program
Bypassing the traditional RN-BSN application process
Flexibility for professional, adult learners:

100 percent online
Individualized pace and program progression, with completion in as little as three semesters or up to five years
Program starts in fall, spring and summer semesters.
Information about the Dual Acceptance Program and eligibility requirements is available here.
Background check, immunizations required
Students in the nursing program must have current immunizations and undergo a criminal background check. Requirements are outlined in the program application.
Computer requirements
Many M State programs have specific computer requirements. Check here to see the requirements for this program.