'Space and Sky': M State fall concert is an immersive adventure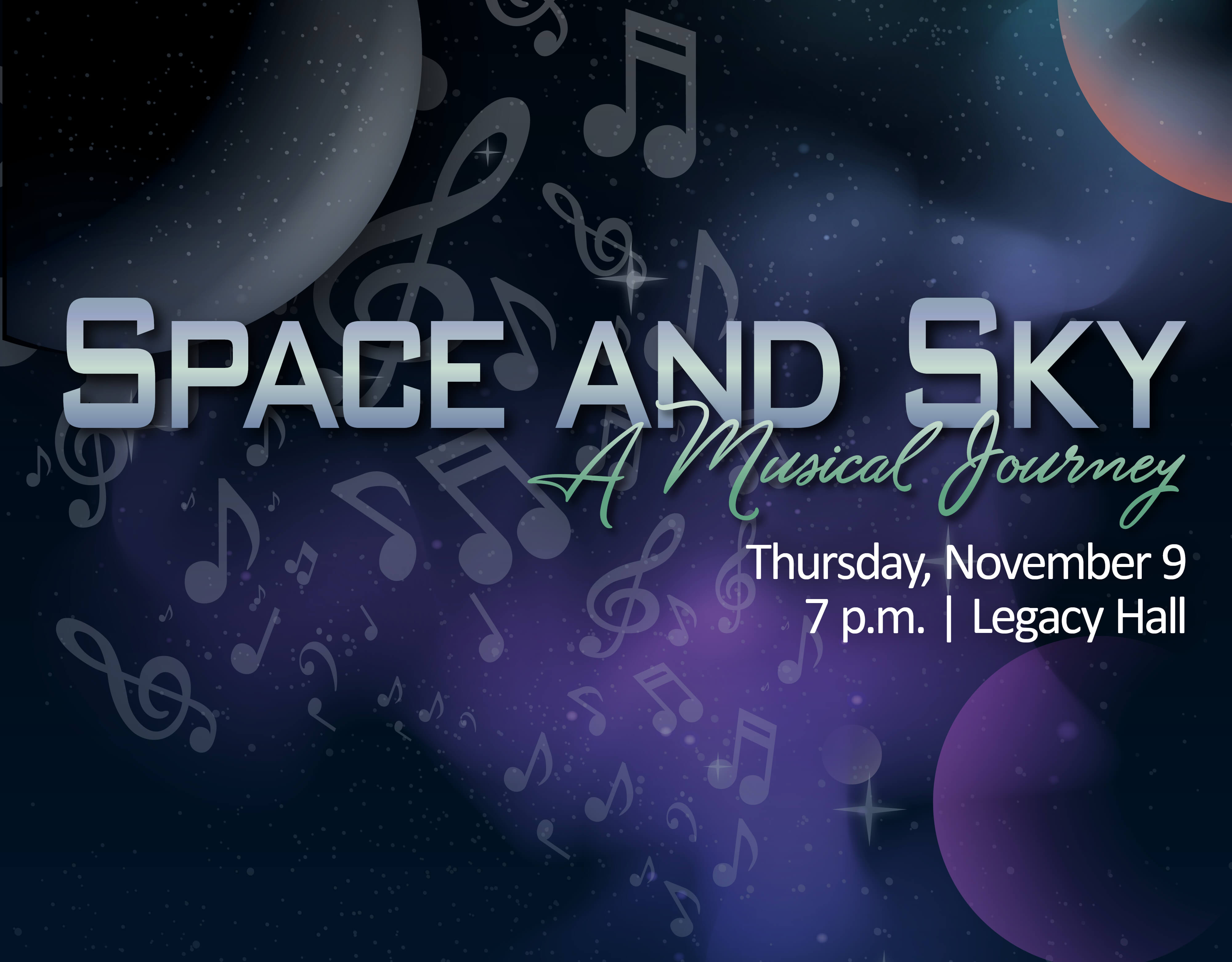 Enjoy an immersive, unforgettable adventure of sight and sound with the M State Fine Arts department's fall 2023 band and choir concert, "Space and Sky: A Musical Journey."
Senses will be taken to the outer limits as M State's Concert Band, Concert Choir, Voice Ensemble and Chamber Chorale convene for an otherworldly performance at 7 p.m. on Thursday, Nov. 9 in Legacy Hall at the college's Fergus Falls campus.
Several selections with a "Space and Sky" theme will be featured, most notably "Deep Field," a unique musical and film experience that combines stunning Hubble Space Telescope images with an original score by Grammy award-winning composer Eric Whitacre. "Deep Field" spotlights a tiny and seemingly dark area of space (around one 24-millionth of the sky) with images of over 3,000 galaxies, each one composed of hundreds of billions of stars.
"'Deep Field' will be performed in the dark in Legacy Hall, with the Hubble images shown as our band and choirs perform the song," says Jim Iverson, Music Faculty at M State and Director of the Concert Band. "We are thrilled to share this deeply engaging, one-of-a-kind performance with audiences."
To fully participate in the interactive piece, audience members are encouraged to download the "Deep Field" app on their cellphones before arriving to the concert (available via the Apple App Store and Google Play, by searching for "Deep Field"). Assistance with the download will be available from students prior to the start of the show, and Iverson will share information with the audience on how and when to use the app.
In addition to "Deep Field," the concert will include several other selections with a "Space and Sky" theme, including "Fly Me to the Moon," "Jupiter," "Hope Lingers On," "Goodbye Yellow Brick Road," "There Will be Rest" and "Goodnight Moon."
"We'll be performing various pieces that will take the audience along a journey to the sky and beyond, for their musical and visual enjoyment," says Laura Quaintance, Music Faculty at M State and Director of the choirs. "This promises to be a performance like no other. You won't want to miss it."
Tickets are $12 in advance or $15 at the door ($5 for students) and may be purchased in advance at the Fergus Falls Campus Store or online at mstate.universitytickets.com. M State staff and students can attend for free with their M State ID.
For more information about M State's Fine Arts department and additional upcoming Fine Arts events, visit minnesota.edu/fine-arts.