M State Foundation and Alumni
Welcome to M State Foundation and Alumni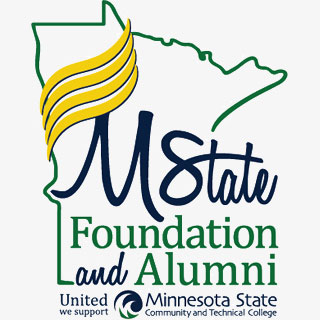 Minnesota State Community and Technical College created M State Foundation and Alumni to unify three separate foundations - Detroit Lakes Area College Foundation, Moorhead Community and Technical College Foundation and Wadena Area College Foundation - into a single foundation that will better serve the college and enhance alumni engagement. The merger was effective July 1, 2017
The new foundation will enable M State to face extraordinary challenges in coming years, align missions, and implement best practices in fund development program methodologies. The new unified, comprehensive organization will better serve the College for generations.
Providing accessible and quality education through scholarship
opportunities for students
Providing innovative and state-of-the-art classroom resources
that allow hands-on learning experiences
Supporting economic and community progress
Your gifts allow you to leave a lasting legacy while you help enhance the education we provide at M State.
Contact the Foundation
One board of directors made up of community members representing the Wadena, Detroit Lakes and Moorhead campuses serves the combined Foundation.
Foundation staff:
Melvin Whitney, Director of Advancement and Development
218.299.6565 - melvin.whitney@minnesota.edu
Shannon Britten, Associate Director of Advancement and Development
218.846.3720 - shannon.britten@minnesota.edu
M State Foundation forms and policies
Check us out on social media!
Students and alum are the reason we are here. It is with great honor that we celebrate all accomplishments of future, current and past students.
Check us out on social media to stay in touch!
M State Foundation news
Melvin Whitney, director of the M State Foundation, was recently featured in the "On the Minds of Moms" magazine as a rad dad.