HLC Standard Pathway Overview
M State participates in the Higher Learning Commission (HLC) Standard Pathway, which is a 10-year accreditation cycle focused on quality assurance and institutional improvement. The Standard Pathway cycle includes:
Regular Monitoring
Annual submission of an Institutional Update, which is reviewed by HLC to monitor organizational health, comply with certain federal requirements and identify any changes that may require HLC follow-up.
Year 4 Comprehensive Evaluation
M State will undergo a comprehensive evaluation during the fourth year of the cycle to ensure the Criteria for Accreditation are being met and institutional improvement is being pursued. The evaluation may include a determination that interim monitoring is necessary.
Year 10 Comprehensive Evaluation
The second comprehensive evaluation is conducted in the tenth year of the cycle and follows the same process as the year four evaluation, with the addition of a Federal Compliance Review. This evaluation leads to an action regarding the reaffirmation of the institution's accreditation.
Source: www.hlcommission.org/accreditation/standard-overview.html
M State Standard Pathway accreditation map
M State is committed to continuously working and striving for the next level of educational excellence for students and stakeholders by following the HLC's Standard Pathway. The accreditation map below highlights M State's standing in the 10-year cycle for reaffirmation of accreditation.
M State accreditation map
2021 - 2023 - Prepare Assurance Filing
March 27, 2023 - Assurance Argument Due
April 24-25, 2023 - Site Visit
2013-2017 AQIP Pathway and Portfolios
Prior to the fall of 2018, M State followed HLC's AQIP Pathway. The AQIP Pathway was officially phased out by HLC at the end of the 2019-2020 academic year, leaving the Standard and Open Pathways as re-accreditation options for institutions to choose from.
M State's 2013 and 2017 AQIP systems portfolios provide evidence that the college is committed to continuous improvement and highlighted ongoing efforts to integrate initiatives into the college's culture and operations.
2017 Systems Portfolio (AQIP Pathway)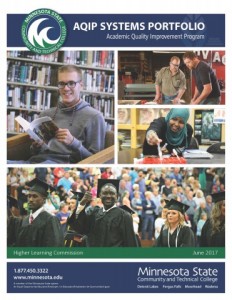 Associated downloads:
Purpose of the AQIP systems portfolio:
Document processes, results and continuous improvement strategies
Receive high-quality, actionable feedback on M State's strengths and opportunities from a team of quality improvement peer reviewers
Serve as a body of evidence to illustrate that M State is meeting the Criteria for Accreditation
Provide a common reference point for our shared understanding of our organization, processes, performance results and improvement efforts
Serve as a planning tool to share with internal and external stakeholders
Show stakeholders with clarity and persuasiveness that M State is accomplishing our mission with our resources
The system portfolio categories provided the framework for an institution to examine key processes, results and continuous improvement efforts.
The AQIP Categories for M State's 2017 Systems Portfolio included:
Category 1: Helping Students Learn
Category 2: Meeting Student and Other Key Stakeholder Needs
Category 3: Valuing Employees
Category 4: Planning and Leading
Category 5: Knowledge Management and Resource Stewardship
Category 6: Quality Overview
Within these categories, HLC expects institutions to use the Criteria for Accreditation to show quality standards are being met.
The criterion used for M State's 2017 Systems Portfolio included:
Criterion 1. Mission
Criterion 2. Integrity: Ethical and Responsible Conduct
Criterion 3. Teaching and Learning: Quality, Resources, and Support
Criterion 4. Teaching and Learning: Evaluation and Improvement
Criterion 5. Resources, Planning, and Institutional Effectiveness
2013 Systems Portfolio (AQIP Pathway)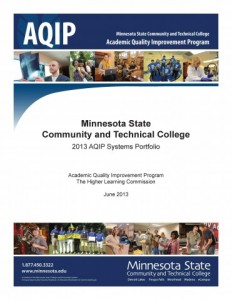 Associated downloads:
The format and the systems portfolio categories underwent significant revisions from 2013 to 2017. The AQIP Categories for M State's 2013 Systems Portfolio included:
Category 1: Helping Students Learn
Category 2: Accomplishing Other Distinctive Objectives
Category 3: Understanding Students' and Other Stakeholder Needs
Category 4: Valuing People
Category 5: Leading and Communicating
Category 6: Supporting Institutional Operations
Category 7: Measuring Effectiveness
Category 8: Planning Continuous Improvements
Category 9: Measuring Effectiveness
Additional evidence for the 2013 Systems Portfolio can be found in the Document and Link Repository.