M State Consultation Requests
The Higher Learning Commission has approved the extension for M State concurrent enrollment instructors to have a master's degree in each discipline they are teaching in, or a master's degree including 18 graduate credits in each discipline they teach in, by September 1, 2022.
Send an email to concurrent@minnesota.edu to request an individual consultation with M State to review transcripts and to discuss your plan with respect to the HLC faculty qualification expectations.
18 Online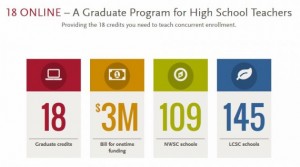 18 Online provides an opportunity for high school teachers to obtain the 18 graduate credits needed to become qualified content area concurrent enrollment instructors by Sept. 1, 2022. The cost for this continuing education is completely covered (including books) by HF 3326 and SF 3026 - Northwest Regional Partnership,which appropriated $3 million to provide curriculum development for the Northwest Regional Partnership continuing education program. This is a collaborative effort between Lakes Country Service Cooperative, Northwest Service Cooperative and Minnesota State University Moorhead.
Who can participate?
Priority registration will be given to teachers in the Lakes Country Service Cooperative and Northwest Service Cooperative regions
Space permitting, teachers outside of the cooperatives also may participate
High school teachers who currently teach or are approved to teach concurrent enrollment (dual credit) classes in their Minnesota school districts
What are the benefits?
No cost, with free tuition and books for up to 18 credits in a content area
100 percent online delivery
Streamlined admission for 18 Online participants
Flexible classes delivered by MSUM faculty
Ensure you have the proper teaching credentials by 2022
How do I enroll?
1. Obtain support from your district's superintendent
2. Contact your cooperative for its approval
3. Go to MSUM's 18 Online Admission and Application website for instructions and to apply
NOTE: You will need to activate your StarID and know your password to complete the application.
Continuing Education Options
To support valued K12 partnerships, M State and Minnesota State have compiled lists of discipline-specific graduate programs and courses that are accessible and viable for working professionals. The list below includes institutions that offer online and on-campus discipline-specific graduate-level courses or degree programs. We also recommend checking the Minnesota State system Concurrent Enrollment Credentialing Patways website as additional courses and programs periodically may be added.
*Note: The compilation of this list does not indicate support or advocacy for particular institutions and/or affiliations.
| | | | |
| --- | --- | --- | --- |
| Discipline | University | Delivery | Additional Information |
| Biology | Bemidji State University | ONLINE | Individual courses |
| Biology | St. Cloud State University | ONLINE | Individual courses |
| Business | Minnesota State University Mankato | ONLINE | Individual courses |
| Business | Bemidji State University | ONLINE | Master of Business Administration |
| Business | St. Cloud State University | ONLINE | Individual courses |
| Business (MBA) | Southwest Minnesota State University | ONLINE | Master of Business Administration |
| Communications | Minnesota State University Mankato | ONLINE and ON CAMPUS | Master of Science in Communication & Composition |
| Communications | Minnesota State University Mankato | ONLINE | Individual courses. Also offered as an MS Communication and Composition (100% online) |
| Communications | St. Cloud State University | ONLINE | Individual courses |
| Education | Southwest Minnesota State University | ONLINE | Master of Science in Education |
| English | Southwest Minnesota State University | ONLINE | Available within a Master of Science in Education program or without |
| English | Minnesota State University Mankato | ONLINE | Individual courses. Also offered as an MS Communication and Composition (100% online) |
| Geography | Minnesota State University Mankato | ONLINE | Individual courses |
| Geography | St. Cloud State University | ONLINE | Individual courses |
| Health Science | Minnesota State University Mankato | ONLINE | Individual courses. MS in Health Science or Post-Baccalaureate Certificates available. |
| History | Minnesota State University Mankato | ONLINE | Individual courses. Online certificate option available. |
| Manufacturing Engineering Technology | Minnesota State University Mankato | ONLINE | Individual courses |
| Math | Southwest Minnesota State University | ONLINE | Available within a Master of Science in Education program or without |
| Math | Bemidji State University | ONLINE AND ON CAMPUS | Individual courses |
| Math | Metropolitan State University | ON CAMPUS | Individual courses |
| Physical Education | Southwest Minnesota State University | ONLINE | M.S. Physical Education Coaching of Sport |
| Political Science | Minnesota State University Mankato | ONLINE | Individual courses |
| Psychology | Minnesota State University Mankato | ONLINE | Individual courses |
| Sociology | Minnesota State University Mankato | ONLINE | Individual courses |
| Spanish | Minnesota State University Mankato | ONLINE | Individual courses |