Moorhead Campus Fitness Center
Welcome to the M State Fitness Center!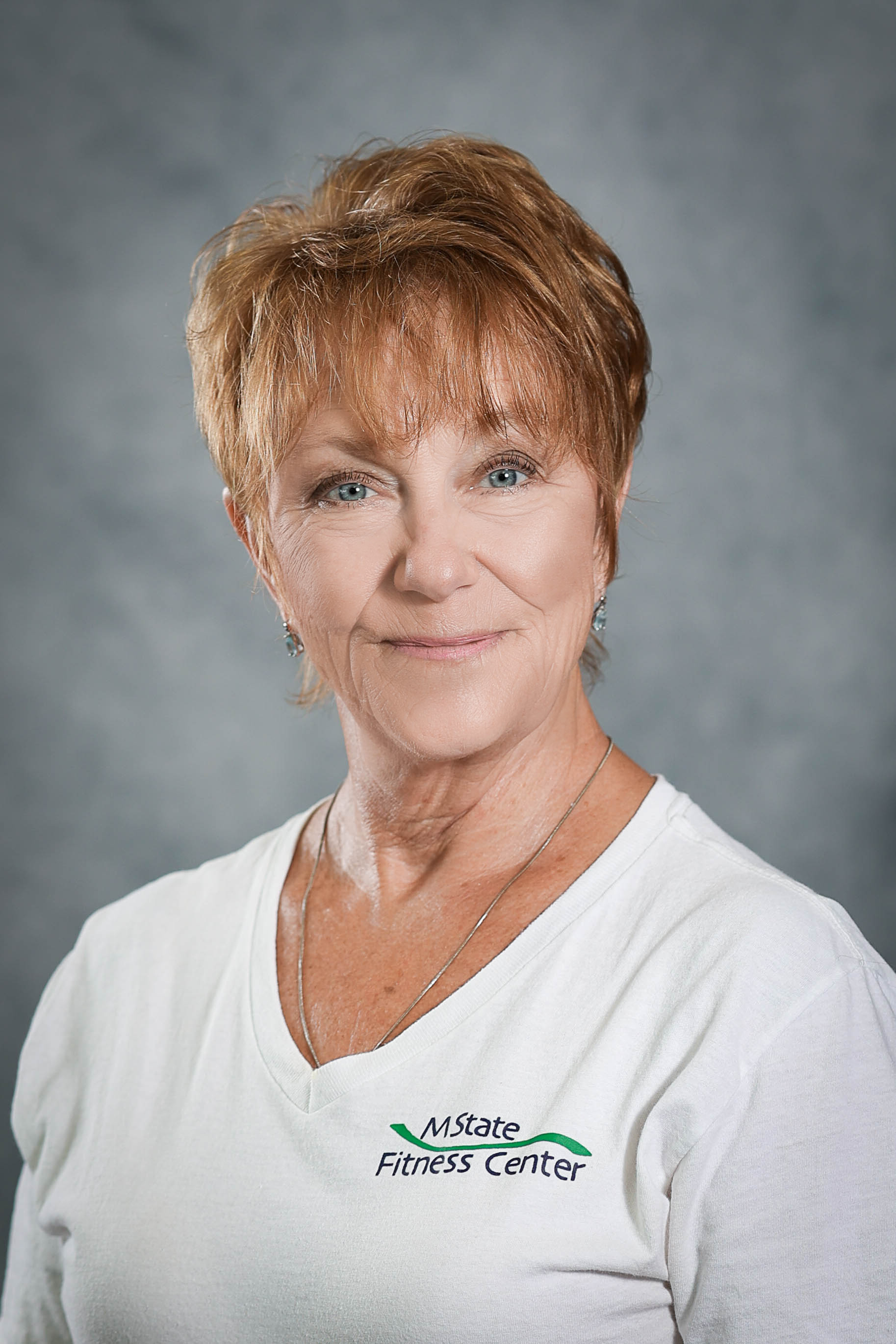 My name is Kay Wilder, director of the Moorhead campus Fitness Center. I encourage you, as a college student, to pay attention and devote time to your personal wellness in order to enhance your academic success and wellbeing while at M State. 
I've been involved with the fitness industry since I was 20 years old, and I continue to do the work to stay on the leading edge of fitness. An educator at heart, I take great personal satisfaction in welcoming every M State student with sincerity and a genuine interest in their story, and in helping students achieve their goals.
Whether it is teaching someone how to walk on a treadmill for the first time, creating a healthy pantry for someone or enhancing a workout program, it is my goal to increase the awareness and confidence of each person who walks through the doors of the Fitness Center. 
At the Fitness Center, you'll experience:
Innovation

Positive energy

Encouragement on a daily basis 
To keep things fresh for students:
A complimentary fitness assessment

will show long-time workout enthusiasts new, varied methods and modalities to shake up any workout routine.

An equipment orientation

is complimentary for those who are new to the path of personal wellness.

Personal training

is available at no additional cost!

Group fitness classes

are scheduled with students in mind. Because many M State students have never experienced a group class, a new class has been created and scheduled for fall semester 2022: Intro to Group Fitness. This class will gently introduce the fundamentals of each type of group class offered at M State, eradicating any intimidation or awkwardness because you'll learn what to expect. No worries! I understand your emotions and will watch over everyone to ensure a positive learning environment. Just remember: You're not the only new person in the class – everyone needs to start somewhere!
I hold national certifications: Health Coach, Personal Trainer, Sports Nutrition Specialist, Orthopedic Exercise Specialist and, most recently, Emergency Medical Responder.
It is my joy and pleasure to inspire others, using positive reinforcement, to express themselves and move their bodies freely and with confidence, without feeling anxiety, worry or stress. 
My motto about exercise: If it wasn't fun, why would you want to do it?!
It's time to activate your membership at the Fitness Center. See you there!
Fitness Center hours
Monday-Friday: 8 a.m. to 5 p.m.
 
Fitness Center memberships
Fitness Center membership is free to M State students enrolled on the Moorhead campus. Member rates for others are:
Community membership (for ages 18 and above): $150/semester for a single membership and $200/semester for a family membership
PSEO and online students: $60/semester
M State employees: $99/semester
Fitness Center FAQs
Where is the Fitness Center located?

Check us out on the west side of the Moorhead campus. We're just inside the W2 entrance in Room 128B.

Is there a membership fee?

Registered students with classes primarily on the Moorhead campus are assessed a Wellness Fee that includes membership at the Fitness Center.

The membership fee for online and PSEO students is $60 per semester, payable each semester at the Campus Crossing bookstore.

How do I activate my membership?

Just come to the Fitness Center and complete a membership agreement. Bring along your Student ID and a clean pair of appropriate gym shoes, and that's all there is to it!

Can my workout buddy (not affiliated with M State) work out at the Fitness Center?

Yes. Community memberships are available for purchase ($150/semester) for individuals 18 years and older. Also available are M State employee memberships ($99/semester).

What makes the Fitness Center unique?

The Fitness Center is a full-service facility. Events are offered during the year, such as a six-week weight loss challenge, self-defense classes and a virtual race.

The shower, changing room and restrooms are private, and lockers are available.

What equipment is available in the center?

6 treadmills with cardio theater
1 PowerMill
5 ellipticals
3 bikes
More than 700 lbs. of plates
100 lbs. of dumbbells
A variety of life fitness machines

How do I know when classes are scheduled?

Watch this webpage or get a paper copy of the schedule at the Fitness Center front desk.

Will someone show me what to do?

New members can schedule an equipment orientation to get acquainted with every piece of equipment in the center. The orientation is a scheduled, private appointment with Fitness Center personnel and is designed to help new members feel confident and comfortable.

I'm burned out on workouts. How can you help?

Schedule a complimentary fitness assessment with our director to create a new, cutting-edge workout and discuss nutrition. An assessment shakes up your old routine and creates a new workout you'll look forward to as you work to achieve your goals and stay fit and well while you're at college.

I think I need a personal trainer, but aren't they expensive?

Personal training is included in a student's membership. Our director, Kay Wilder, is an ACE Certified Health Coach. Wilder has numerous specialty certifications in orthopedics and nutrition and addresses not only the physical aspect of wellness, but also the multiple facets of individuals' needs.

Are there work study positions in the Fitness Center?

The Fitness Center hires seven to nine student workers each semester. It's a great place to learn customer service, interpersonal and diplomacy skills, and accountability. Work schedules are flexible.
Students share their experiences at the Fitness Center
"Going to a group class at the Fitness Center is kind of awkward at first, but I found right away how much fun it is to learn with other people. I thought I would feel apprehensive and judged by other students, but then I realized everyone's in the same boat and just learning, too."
-Student Sara B.
"The M State Fitness Center was essential to me passing the Law Enforcement Skills Program. The personal training I received allowed me to meet and exceed my fitness goals. I highly recommend anyone attending M State to take full advantage of such an incredible opportunity."
-Martin H., Criminal Justice graduate
"The Fitness Center is everything you never knew you needed to start or continue your fitness journey. It's not overwhelming like most gyms, and you always feel welcome. It helped me gain my confidence back and pass physical fitness exams I otherwise had no chance with."
-Beth M., Criminal Justice graduate
"The M State Fitness Center is one of the key places to be on campus. It makes a difference to go to a gym where the trainer cares about your wellbeing."
-Student Brianna J.
"When I started at M State, I was not comfortable going to any gym due to my gender identity. When I first visited the fitness center and met Kay, she instantly made me feel comfortable and welcome. I attribute my ability to pass the physical exam for my job to the Fitness Center and all that Kay did for me."
-Emory D., Criminal Justice graduate
"When I started at M State, I was still exploring which profession I wanted to pursue. I was struggling physically and I didn't know where to start with all of this. Then I walked through the M State Fitness Center doors... I walked in with my cane, a lack of confidence, and at least 50 extra pounds that I didn't need to be carrying around. Kay made things very doable for me. Food, eating schedules, exercise schedules, class schedules, you name it. There was never a 'one size fits all' component to Kay's way of coaching and training. With Kay as your personal trainer, there is no goal too hard that Kay cannot help you reach. The best part of my journey...was all of the awesome people I met along the way. I met many other students with similar and different struggles that I faced (in school, in health, in life, etc.) who I got to learn from and befriend. Learning about the people around me allowed me to learn about myself. And we all got to do it together on our fitness journey! In group classes, individual gym time, personal training sessions, I found out just how much I was not alone."
-Graduate Josie M.