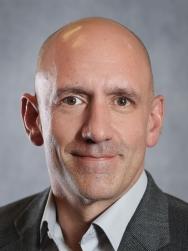 Vice President of Institutional Effectiveness and Technology
(218) 846-3721 - Detroit Lakes
Dr. Steve Erickson provides M State with leadership in institutional research, institutional planning, assessment and institutional accreditation.
Erickson joined the college in 2014 as director of institutional research and has held roles including dean of eCampus, dean of institutional effectiveness and dean of technical programs.
Before joining M State, Erickson held administrative roles and faculty positions at Heald College in Portland, Ore., and also taught at Mt. Hood Community College in Oregon. Prior to entering the field of education, Erickson was an electrical and biomedical engineer focusing on test engineering, systems engineering and research into high-frequency ultrasound.
Erickson earned a doctoral degree in higher education from Concordia University in Portland, Ore. He holds an M.S. in Electrical Engineering from the University of California, Davis, and a bachelor's degree in Biomedical Engineering from the University of Iowa.
He is an active member of his community, engaged in Rotary and coaching youth hockey and soccer. In his spare time, he enjoys sailing, mountain biking and many other active sports.
Contact