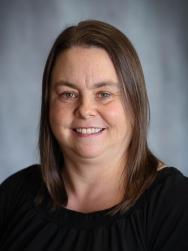 (218) 736-1598 - Fergus Falls
- Online
I was a chemistry major, math minor and missions minor in my undergraduate studies at Houghton College in Houghton, N.Y., where I earned a Bachelor of Science degree in chemistry.
I did graduate studies in analytical chemistry and teaching chemistry at Northeastern University in Boston, where I earned a Master of Science degree in analytical chemistry. A couple of my chemistry interests are forensic science and water quality.
I interned and student taught at Boston Latin Academy, where I led a group of students through chemistry experiences related to these two interests. I followed these students through school and assisted with a summer science camp researching water quality around the Boston area.
I love teaching and have experience at both the high school and college levels. I began teaching chemistry online at M State in the spring of 2006. My "home base" is Fergus Falls, but I teach from home.
I have six active kiddos (Caleb, Hannah, Timothy, Sarah, Joshua and Elizabeth) and a very patient husband, Adam.
I love chemistry, but I don't expect students to. I want to demystify the subject matter for my students. I will support students all that I can so they succeed in my course. I want students to leave my course saying, "I can do chemistry." If they also say, "I love chemistry," that is just a bonus.
Contact