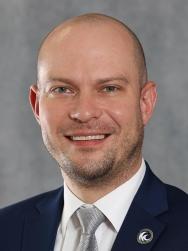 Provost/Vice President for Academic Affairs
(218) 736-1506 - Fergus Falls
(218) 736-1506 - Moorhead
Dr. Matthew Borcherding was named Provost/Vice President for Academic Affairs in March 2022 after serving in an interim capacity since July 2022. In this role, Borcherding leads all four academic schools within the college, with a focus on growth and development of the academic offerings across the college.
Borcherding has served as a dean since December 2016 and was a biology faculty member on the Fergus Falls campus from 2011 to 2016. He has also served as an adjunct professor of higher education at a regional university and served on several dissertation committees in that capacity.
Borcherding was awarded the President's Award of Achievement in 2021. He was a recipient of the Minnesota State Board of Trustees Excellence in Teaching award in 2017 and the NISOD Excellence in Teaching award, the President's Distinguished Achievement award and Outstanding Faculty of the Year, all in 2016.
Borcherding has written and presented both regionally and nationally on the topic of central nervous system depressants on academic and social involvement in undergraduate students.
He holds a Bachelor's Degree in Microbiology and a Master's Degree in Biology Education from Minnesota State University, Mankato, and a doctoral degree in Higher Education Administration from St. Cloud State University.
Contact