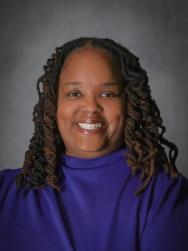 Vice President of Student Affairs
(218) 299-6853 - Moorhead
Elise Sturdivant joined M State in the fall of 2022 after serving as the Director of Academic Success Partnerships and Keys to Degrees at Eastern Michigan University in Ypsilanti, Michigan.
She has 11 years of professional experience in higher education, holding leadership positions in a variety of areas such as strategic planning, talent management and acquisition, budget management, customer relationship management, human resources, grant administration and writing, and diversity, equity, inclusion and belonging.
Sturdivant holds an MBA in Strategic Management from Davenport University and a bachelor of arts degree in Sports Management and Communications from the University of Michigan.
She has served on a variety of committees and councils, including but not limited to: The Center for Education Design, Evaluation, and Research; State of Michigan Department of Labor and Economic Opportunity Data Management Team; Community College Relations Advisory Board; Campus and Community Writing Faculty Advisory Committee; Student Affairs and Student Services Assessment Council; Future Faculty Fellows Selection Committee; and the Women's Gender Studies Community Board.
Contact