Culinary Arts
M State can help you turn your passion for cooking into a rewarding career with our diploma in Culinary Arts.
Body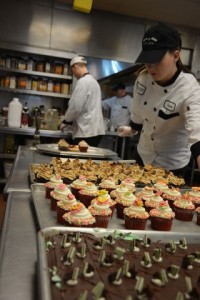 If you have a passion for cooking and a willingness to learn, M State's Culinary Arts diploma program offers an excellent and unique foundation for your career in the food service industry. Our 31-credit program provides practical hands-on training and traditional academic culinary courses that prepare you for success.
Real-world education doesn't get any more real than our Culinary Arts program, where students put their learning to work daily as they create the menus and prepare the breads, salads, soups, sandwiches, entrees and desserts served in the Moorhead campus cafeteria.
Here is what you'll learn
Safety and sanitation standards found in the FDA Food Code

Cooking techniques and skills commonly found in the professional food service industry

Food products, taste profiles and terminology used in the professional food service industry

Knowledge of kitchen measurements, recipe conversions, yields, portion sizes and calculated costs of food

Grading and quality standards for a variety of meats, poultry, seafood and fish, dairy and produce

Fundamental competencies in all production areas of the professional kitchen

Effective communication, professionalism, teamwork and customer service skills
Meet the faculty
Employment Data