Events at M State-Moorhead
Student Life Events

Want to know what's happening at M State - Moorhead? There are multiple ways to stay in the know about the fun and FREE events on our campus!
Email - Every Monday during the school year, you will receive an email at your M State email address with all the events coming up during the week. Check it out to learn the entertainment, free food and educational opportunities that await!
Social Media - All of our social media outlets share prize drawings, contests and information you can't get anywhere else. Be sure to follow us today!
Facebook - Our Facebook page has information about upcoming events and often will feature video or audio snippets from upcoming artists.
Twitter - Our Twitter feed will share posts from our upcoming artists and give you a sneak peek into some of their current materials.
Instagram - Follow our Instagram for fun and current information about what is happening on campus.
Old School - Don't forget about all the materials posted on campus - be sure to check out the posters and flyers in the commons areas, in the bathrooms and on poster boards around campus.
Stop and Say HI! - Our offices are located in D121, just next door to the Student Services offices. You're always welcome!
Pulse Student Programming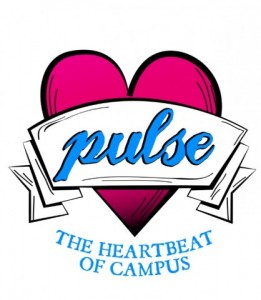 The Pulse student programming board is hard at work planning events, programs and activities for your enjoyment. Each semester, about 30 events happen on the Moorhead campus. You're encouraged to get involved and take advantage of the opportunities that the student-run board provides to you! We are always looking for volunteers and committee members to assist with entertainers and artists. Email Teresa Stolfus for more information.