Toby and Kris Eiter 'reinvent' themselves at M State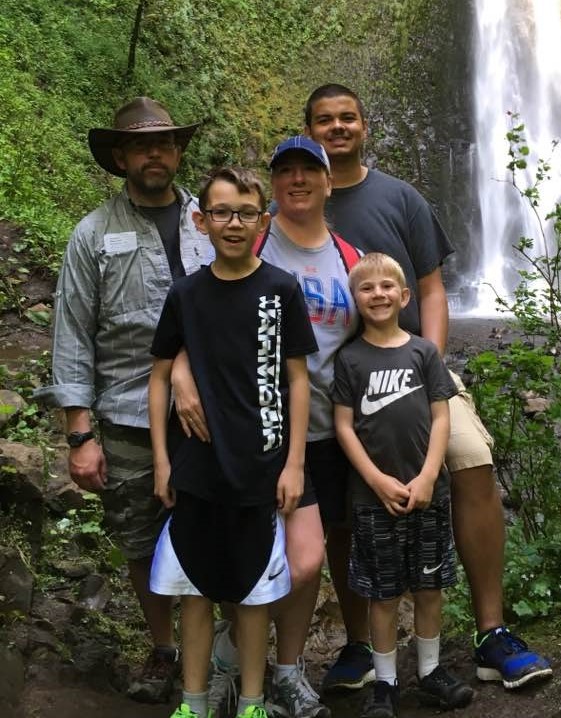 Some people buy a car when they hit their 40s and have a mid-life crisis, says Toby Eiter. But he and his wife, Kris, "chose to reinvent ourselves."
The Eiters grew up in West Fargo, where they met in high school. Toby spent 23 years in the Air Force working in security and as an intelligence analyst in 57 countries. While they were stationed on bases in Grand Forks, Germany, Las Vegas and San Antonio, Kris worked in the accounting field.
Prior to Toby retiring from the military, they moved to the Lake Park area and Kris worked with a commercial lighting business, eventually becoming a part owner. After selling her share of the business, where Toby also worked, she decided to pursue her long-time goal of a career in health care and enrolled at M State in the Radiologic Technology program on the Detroit Lakes campus. After spending a year as a full-time dad and community volunteer (he loved it, he says, but it didn't pay well), Toby joined Kris at M State in the Architectural Drafting and Design program.
The couple has three children, ages 24, 13 and 10. Kris plans to graduate in spring 2022, and Toby will complete his degree in spring 2021. Here are their responses to the unique challenges posed by enrolling in college at the same time in their 40s.                              
With both of you attending college at the same time, what unique challenges have you faced?
Kris: Financially, it is tough to lose both head of household incomes, but luckily we prepared ahead of time to cover the expenses needed for the time we are studying. Time-wise, both of us always seem to be studying or preparing for classes, so we have to balance our schedules every week to keep up with the various activities are boys are still involved in and take turns with everyday life activities, like preparing dinner, household chores, shuffling kids back and forth to their activities, grocery shopping, mowing, etc.
Toby: Timing is critical in our house. We are planners. Plan to be successful to ensure success.  It's a bit of a balancing act. We both want to be tops in our program to have the best opportunities upon graduation. That means we study and work hard at it. We also want to make sure that us attending college doesn't detract from our kids' having a memorable childhood., so every week, we (with our boys) check our schedules and go over the events of the upcoming week. If things overlap, we formulate our plan and conquer the upcoming week.
What were your biggest concerns when you enrolled?
Kris: Finances were a big concern. We were prepared but didn't want to live on ramen every evening for dinner, so I took advantage of M State scholarships and also two others from military organizations.
Toby: Finances, time and how well I'd adapt to college at 40-plus. The Department of Veterans Affairs has given me a great opportunity and helps with the finance part. We constantly deconflict schedules to make sure we aren't dropping the ball. The Arch Program has a good blend of ages and personalities. While I'm an outlier in age, not every student is 19 and they are there for the same purpose – to be successful upon graduation.
How did the pandemic and the shift to online classes affect you?
Kris: I am in hybrid mode with classes, and it is tough when we are all home trying to do classes all at once. Not only do Toby and I have Zoom meetings, our two kids still at home could go to distant learning at any time. We live out of city limits, so our internet has trouble keeping up sometimes. Also, our house seems to get a lot smaller since we all have to be separate. I isolate myself in our room, Toby sets up camp in the downstairs living room, and our two at home get pushed to different areas during classes.
Toby: I struggled at first. I found it very stressful having to learn new 3D drafting software remotely while we were also being 4th grade teachers, 7th grade teachers, parents and partners. My instructors were super helpful and addressed issues I encountered with schoolwork. At home, luckily, we have a strong mutually supporting team. We prioritized. We saw plans fall apart. We readdressed priorities. We supported each other. We got through the initial wave of discomfort and awkwardness. Now we've since worked through it, we have our battle-tested plan, and it's working. 
Were you surprised by anything about M State or your programs?
Kris: I knew the Rad Tech program was fast paced, but I didn't realize how much information is thrown at us each week. I had to take a step back at first and re-prioritize homework, work and family life. I cut my hours at work, and my time management skills have improved, and now it all seems to be running smoothly.
The class sizes are small, which in my case, as a 43-year-old mother returning to school, made me feel less intimidated when returning to school.
Toby: I was surprised how easy M State made the class registration process. I was also surprised how reachable my instructors have been. While they have additional office hours where we can ask questions, they've also been very open to email questions and additional Zoom sessions to help me understand the 3D modeling software for our program.
It's not just the instructors that want you to be successful. Everyone I've encountered at the DL campus has been super helpful, especially IT (Austin Hanson).
What's your advice for other couples who are thinking about attending college together?
Kris: It is nice to get it done at the same time. I look forward to having the same time off between semesters, and spring break will be a nice break. Work as a team! Help each other out with projects, proofread each other's papers. Support each other! We brag about grades to each other all the time. He shows me his progress on his drawings, and I put him in x-ray positions to help me study.
Toby: Three things if you have kids at home and are enrolling in school at the same time. 1) You have to be on the same team! Be available for each other. You cannot be worried about your success alone. 2) Financially, pursue scholarships. There are a lot of options available, and they're worth the effort. If you're a veteran, contact the VA representative to see if you're eligible for any support programs. 3) You have a support network. Ask for help before it's too late … from your partner (you're on the same team) … from your instructors (they want to see you succeed) … from your classmates (they'll help you through hard lessons).
What are your plans after you graduate?
Kris: I don't graduate until 2022, so until then I will be hitting the books hard, but after graduation I will take my board exam and hope to pass with flying colors and look for a job in general x-ray field nearby.
Toby: I am currently doing an internship. When I graduate in the spring, I'll work full time in some role associated with my degree. We've learned a bunch of drafting programs, so I have a wide variety of potential employers.