Spartans win third in nation, three earn All-American honors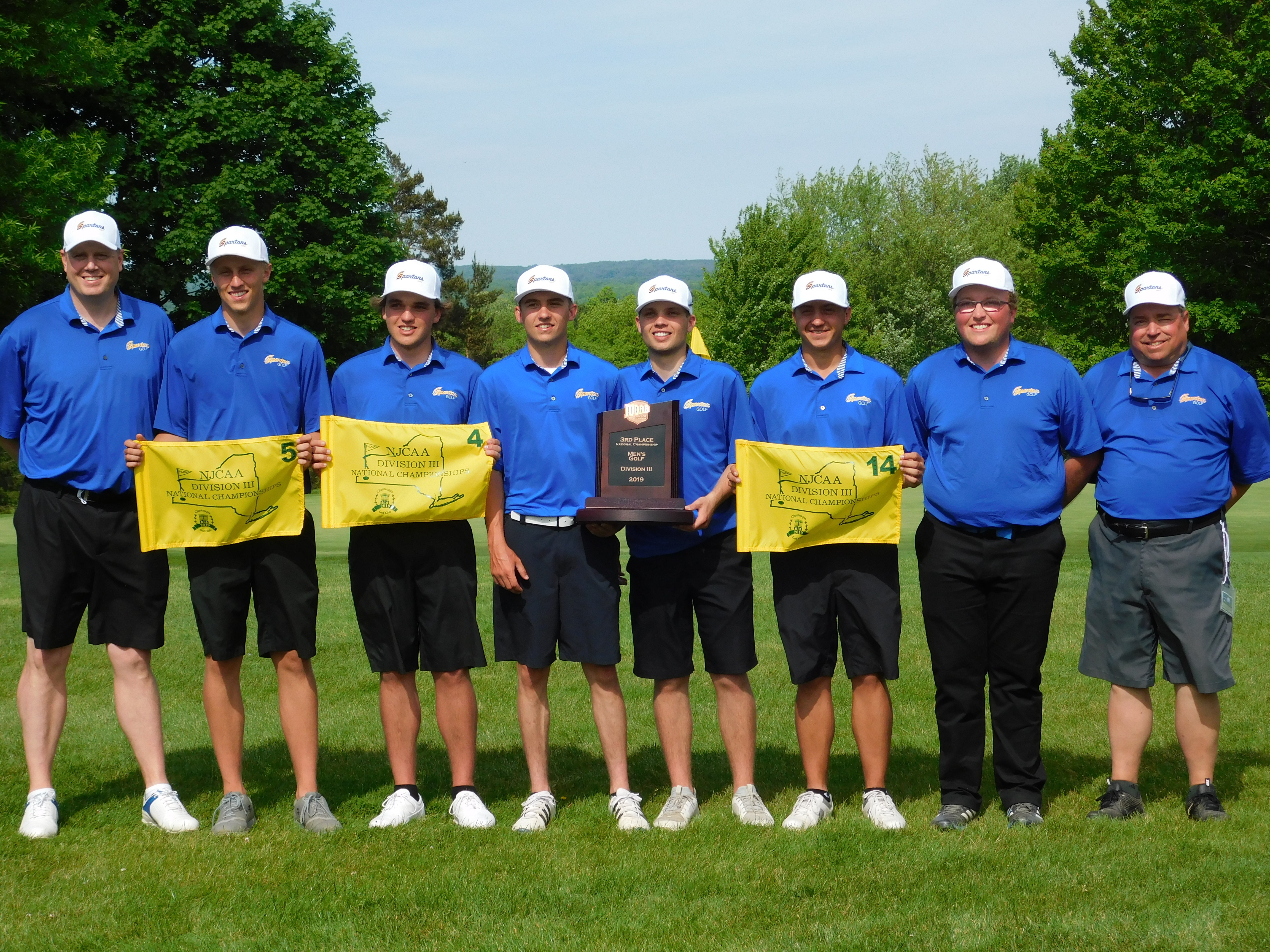 After shooting their low score of the week on the last day of the tournament, the M State mens golf team finished the season in third place at the NJCAA Division III national championship in Chautauqua, N.Y.
The Spartans shot 304 on Friday and ended the four-day tournament only six shots off the championship score of Georgia Military College (Milledgeville, Ga.,) and five shots behind second-place winner Sandhills Community College (Pinehurst, N.C.).
"The Spartans really came to play (Friday), and it was a battle between three great teams," said Spartan coach Jason Retzlaff. "We might have caught both teams around the 12th hole but couldn't quite keep the wave of momentum going through the entire round. Regardless, six shots off the title is a tremendous accomplishment, and the guys played exceptional under pressure."
M State has now finished in the top three in three of the last four years (2016, 2017 and 2019) and in the top five nationally for eight years in a row, winning the national championship in 2012.
Three Spartans earned All-American honors: Blake Bloedorn (4th place, 1st team All-American), Hunter Moen (5th place, 1st team All-American) and Wyatt Blomseth (14th place, Honorable Mention All-American).
With the All-American honor as a freshman, Blomseth earned an automatic bid to the national tournament next year. With his honor, Moen became the first M State golfer to earn 1st team All-American honors in consecutive years.
 "Our fan support was such a big part of our experience this week," Retzlaff said. "Including M State President Carrie Brimhall and her family, we had 41 people from Minnesota and North Dakota travel to New York to cheer us on. That type of support from family and our college is truly appreciated.
"A big thanks to our sophomores, Blake Bloedorn, Jordan Kern, Austin Miller and Hunter Moen. They are great players and very special young men. I am very thankful they attended M State and they leave a wonderful legacy on our program. Both Wyatt and Carter had great freshman seasons, and they will be the backbone of our team next year."
Final team results:
1. Georgia Military College (Milledgeville, GA) - 315 (Day 1)+314(Day 2)+305(Day 3)+301(Day 4)= 1235
2. Sandhills CC (Pinehurst, NC) - 314 (Day 1) +316 (Day 2) +293 + 313= 1236
3. M State (Fergus Falls, MN) - 317+311+309+304= 1241
4. Columbus State CC (Columbus, OH) - 324+328+308+332 = 1292
5. County College of Morris (Randolph, NJ) - 333+328+328+309= 1298
6. Niagara County CC (Sanborn, NY) - 327+332+330+330= 1319
7. Butler County CC (Butler, PA) - 336+337+319+328= 1320
8. Cayuga CC (Auburn, NY) - 342+327+323+335= 1327
9. Northampton CC (Bethlehem, PA) - 346+342+331+325= 1344
10. Nassau CC (Garden City, NJ) - 355+355+343+331= 1384
11. Madison College (Madison, WI) - 357+341+348+348= 1394
M State individual results:
Blake Bloedorn - 75 (Day 1) +78 (Day 2) +74 (Day 3)+ 76= 303 (3rd individually-1st Team All-American)
Hunter Moen - 75+76+79+75= 305 (5th individually-1st Team All-American)
Wyatt Blomseth - 85+77+77+76= 315 (T-14-All-American Honorable Mention)
Carter Justesen - 82+80+79+77= 318 (T-20)
Austin Miller - 90+84+86+88= 348 (T-67)
Pictured left to right are head coach Jason Retzlaff, Hunter Moen, Blake Bloedorn, Austin Miller, Carter Justesen, Wyatt Blomseth, Jordan Kern and Assistant Coach Jeff Haukos.