Spartans celebrate big weekend wins: volleyball headed to nationals, football to state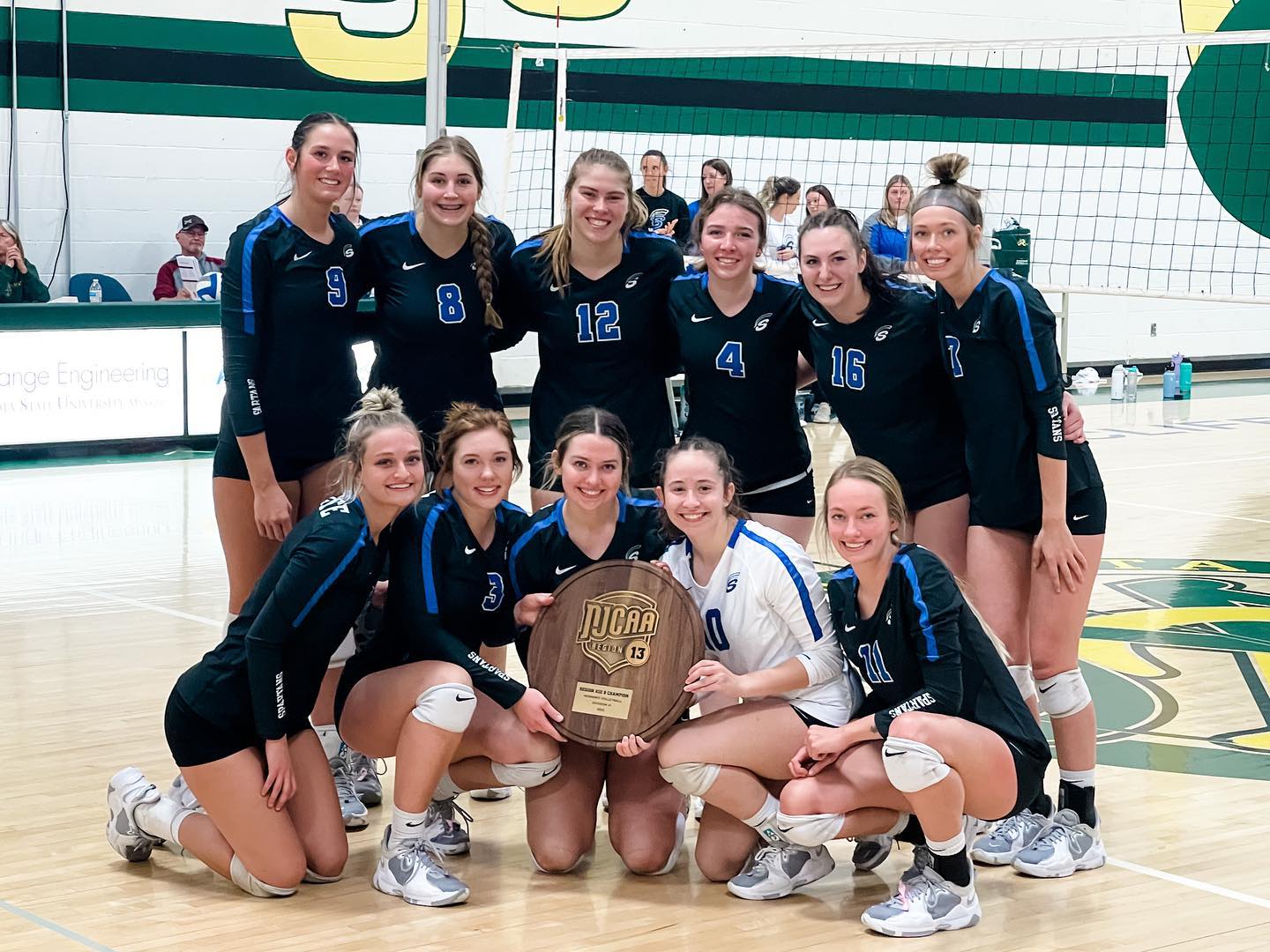 The Spartan athletic teams at Minnesota State Community and Technical College have continued to keep their hot streaks going this season, with both the Lady Spartan volleyball team and Spartan football team claiming impressive victories over the weekend.
The volleyball team grabbed headlines on Saturday, Oct. 29 with a regional championship win to advance for the second year in a row to the National Junior College Athletic Conference (NJCAA) National Tournament.
The Spartan football team followed that with an impressive victory on Sunday, Oct. 30 to advance to the Minnesota College Athletic Conference (MCAC) State Championship game. The Spartans have a perfect 9-0 record and are currently ranked No. 1 in the nation.
VOLLEYBALL TO COMPETE AT NATIONAL TOURNEY FOR 2ND CONSECUTIVE YEAR
The Lady Spartans traveled to Virginia, Minn. on Friday, Oct. 28 for the regional tournament and started with an impressive straight set 3-0 win over Northland Community and Technical College. That set up a region championship game against MCAC Southern Division rival St. Cloud Technical and Community College. This would prove to be a real battle: the Lady Spartans won in four sets with scores of 25-22, 22-25, 28-26 and 25-22 to advance to the NJCAA National Tournament.
"We had a goal in mind this weekend, and it was to go back to nationals" said Head Volleyball Coach Abby Crowser. "In order to accomplish that goal, we had to take one match at a time and be focused. On Friday against Northland, we played very solid and balanced. Getting the win in three sets was a great way to start and we were ready to have another match-up with St. Cloud for the championship."
"Throughout the whole match, the team's determination and drive to win never wavered," Crowser added. "Even when we were down by a large margin in the second set, they were able to regain their composure and get their momentum going again to come back and take the third and fourth sets. Our serving was tough, our defense was doing everything they could to keep the ball from hitting the floor, and our hitters were swinging to put the ball away… Every single member of this team is vital to our success. This is a special group, and we are so happy that we get to continue our season together at the national tournament."
Kaleigh Sip, a freshman from Ada, was named tournament MVP and was also part of the all-tournament team. Joining Sip on the all-tournament team was Brooke Hovland, a sophomore from Underwood, and Kaia Strom, a sophomore from Fergus Falls.
The Lady Spartans received the No. 5 seed for the national tournament and will open play against No. 12 seed Monroe Bronx College. The first match will be on Thursday, Nov. 10 at noon at Rochester Community and Technical College in Rochester, Minn.
NO. 1-RANKED FOOTBALL TEAM HEADED TO STATE CHAMPIONSHIP
On Sunday, the Spartan football team kept their record perfect at 9-0 and punched their ticket to the MCAC State Championship game with a thrilling 12-7 victory over the Yellow Jackets from Rochester Community and Technical College.
The Spartans grabbed a 3-0 lead on a Carsen McKnight 21-yard field goal and scored a touchdown on a 76-yard pass play from quarterback KJ Cooper to wide receiver Isaac Freitag. McKnight kicked the extra point for a 10-0 Spartan lead. The Yellow Jackets scored a late first half touchdown for a 10-7 halftime lead for the Spartans.
Special teams carried the day in the second half as they blocked two field goal attempts and a punt. McKnight pinned the Yellow Jackets deep in their own territory with a terrific punt and the Spartans were able to get a safety to make the score 12-7.
"Our goal was to get back to this game after not having a chance to play in it last year," said Head Football Coach Cory Miller. "We are probably more excited to play this game because of that. This team has answered every challenge they have faced this year. We have had success in all phases of football. We will need to play our best game for us to bring home the championship." 
The Spartans will play North Dakota State College of Science in the state championship game on Sunday, Nov. 6 at 1 p.m. on the football field at St. Cloud State University.