'Mental dancing': Painter Mike Odden's exhibit at the Waage is a celebration of shape and color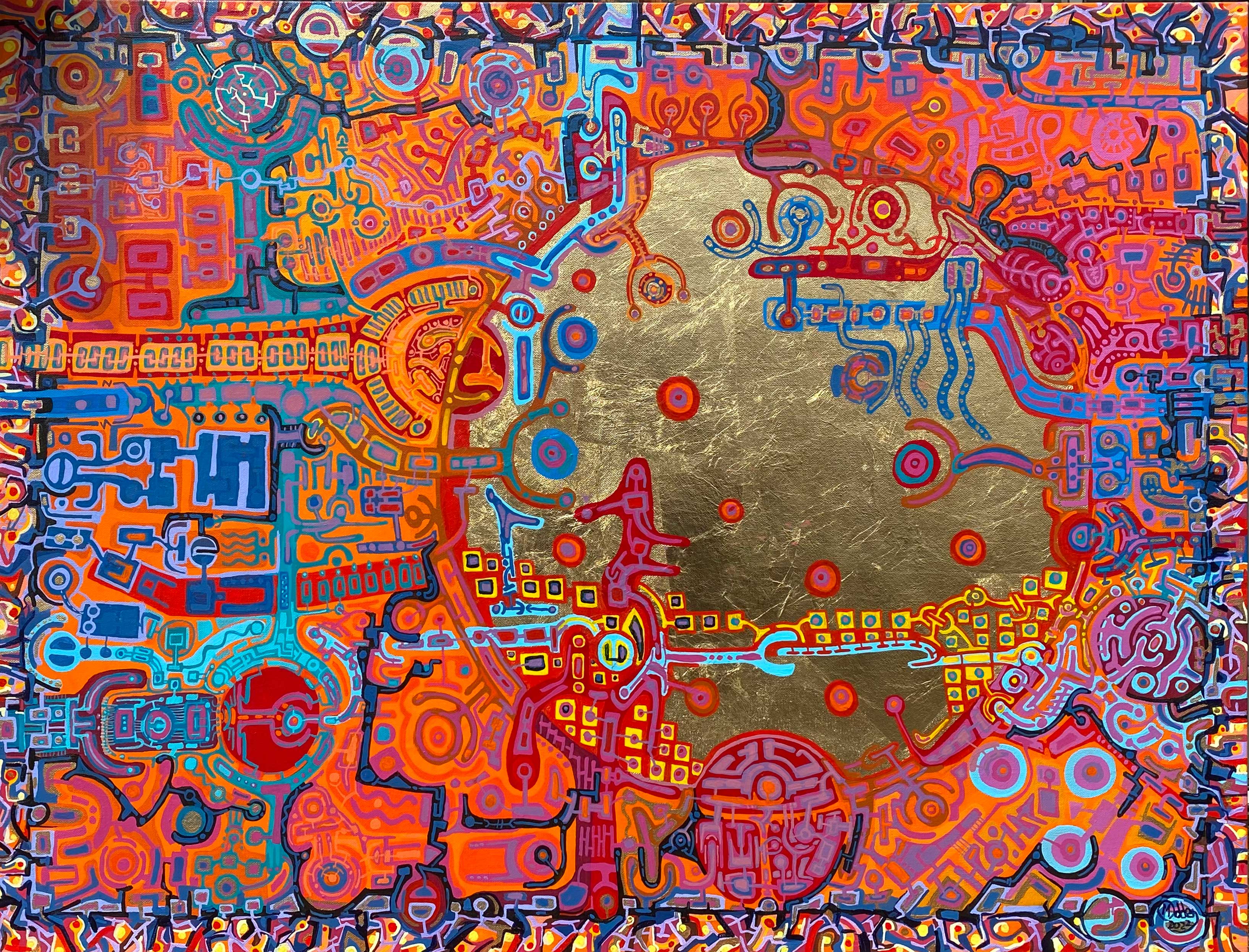 In the early 2000s, Minnesota artist Mike Odden felt spent after a 31-year career as a high school art teacher and a lifetime of painting, sculpting, knife-making, printmaking and more, so he took a healing hiatus from art.
When he finally picked up a paintbrush again a decade later, he did so with a fresh perspective and a new approach – instead of creating what he thought other people wanted, he began doing it for himself.
"I started painting again, trusting my inner self to dictate my direction… to explore the flow (of my art). When I come to a decision point, I go with moving forward. Completion comes naturally, when the painting tells me to stop," he explains on his website, mikeodden.com.
Starting with a blank canvas and using acrylic paints with gold leaf and metal foils, Odden creates "stream of consciousness" or free flowing "mind maps, if you will," he says. His finished paintings are celebrations of bright colors, lines, curves and hard edges; images that are like "mental dancing... endless convolutions of organic shapes that represent complex labyrinths with no end."
He has made at least 20 such paintings since the end of his hiatus in 2014. His latest exhibit, "Non-Objective Realism," is a collection of these works. The exhibit will be on display at the Waage Gallery, on M State's Fergus Falls campus, from Friday, Nov. 4 through Thursday, Jan. 5. An Artist Reception is planned for Wednesday, Nov. 9 from 1-3 p.m. in Legacy Hall.
"Mike's work is colorful and detailed," says Lori Charest, ceramics instructor and art collection curator at M State. "It makes you want to spend time with each piece so you don't miss anything."
Born and raised in North Dakota, Odden expressed an interest in art at an early age and was encouraged in his creativity by his family members and schoolteachers. After high school, he attended Minot State College with a scholarship from the Minot Art League and in 1968 he graduated with his bachelor of science degree in art.
He became a high school art teacher in Holdingford, Minn., where he taught for 31 years before retiring in 1999. He and his wife, Ruthe, have been married for 57 years and have three children and seven grandchildren.