M State's PN program ranked No. 2 in Minnesota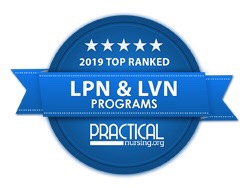 M State's Practical Nursing program has been named the state's No. 2 PN program by PracticalNursing.org in its ranking of 2019 Best LPN Programs in Minnesota.
Colleges offering PN programs were assessed primarily on pass rates for program graduates in the NCLEX-PN licensure exam over a multi-year period. Twenty-six Minnesota PN programs were analyzed, and 10 were ranked.
The 2017 NCLEX-PN pass rate for graduates of M State's PN program was 95.92 percent, compared to a rate of 86.22 percent at all Minnesota colleges and a national rate of 83.85 percent. M State's pass rates were 91.67 percent in 2016, 97.59 percent in 2015, 98.89 percent in 2014 and 98.17 in 2013.
Practical nurses must pass the NCLEX-PN exam to gain licensure to work as a licensed practical nurse.
"I believe our historically high pass rates for students in our Practical Nursing program reflects the excellence of our M State nursing instructors," said Jennifer Jacobson, M State's dean of health careers. "We take great pride in preparing future nurses for successful careers in the health care profession."
M State offers a full-time PN program on the Moorhead campus with both fall and spring starts. For more information about M State Nursing programs, visit Minnesota.edu/programs/nursing.
PracticalNursing.org is an online resource that "champions the growth of nursing professionals through education, advancing knowledge and inspiring patient care." This is the third year in a row that M State has been ranked among the organization's top programs in Minnesota.