M State responds to need for awareness of autism spectrum disorder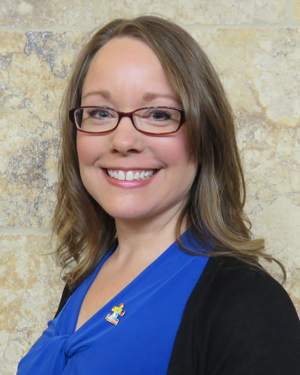 With a surge in the number of children being diagnosed nationally with autism spectrum disorder, an online program at Minnesota State Community and Technical College is responding to the need for increased understanding of the developmental condition.
Jennifer Redlin, an M State psychology instructor and coordinator of the college's Autism Spectrum Disorder certificate program, said M State's ASD certificate is designed for educators, health care workers, direct support professionals and family members caring for someone diagnosed with autism.
The program is unique, she said, because ASD-focused higher education programs tend to be graduate-level and not available to many of those who provide direct care for individuals diagnosed with an autism spectrum disorder.
"It's important to remember that many of the jobs serving individuals with autism are entry-level positions, and these workers would benefit from specialized education in autism but may not be ready for graduate-level education," Redlin said.
Darcy Kasprowicz is director of development and community relations at the North Dakota Autism Center in Fargo, which provides day programs for preschool and school-age children diagnosed with ASD, as well as family and community support programs.
"This certificate program is a wonderful option for individuals to learn more about autism," Kasprowicz said. "It opens the door for employment options and creates more understanding of those individuals with autism."
Redlin, who volunteers at the North Dakota Autism Center, said M State's ASD program is unique in Fargo Moorhead and has prompted interest from prospective students who already have bachelor's degrees in related fields.
In May, Kasey Clark will be among the first graduates of M State's16-credit certificate program. Clark has worked in home health care in Moorhead for a year and a half and has found the program to be "a great opportunity to learn about autism spectrum disorders."
"I really have found it's important to educate yourself," said Clark. "It helps you connect and understand the people you're working with. By being in this program, I've learned so much from simply seeing 'the other side.'"
Clark plans to begin work in the fall on her bachelor's degree at Minnesota State University Moorhead and eventually earn her master's degree in speech pathology, a career field where her studies in autism could prove valuable.
Redlin has a master's degree in clinical psychology and specializes in the field of applied behavior analysis, which she describes as the basis for the best evidence-based interventions for autism.
The program stresses an individualized approach to working with individuals with autism, she said, repeating the oft-quoted statement that "if you've met one person with autism, you've met one person with autism."
Individuals will ASD can experience difficulties with social skills, repetitive behaviors and communications, Redlin said, "but the earlier the intervention, the more chance a child has for success in life. A diagnosis of autism doesn't mean a child can't lead a happy, productive, independent life."
Kasprowicz said there are many common misconceptions about autism, including the myths that people with autism don't want friends, that they can "grow out of it," that it was caused by something the mother did during pregnancy and that it affects only children.
That awareness is important, she said, because individuals with autism "want to be part of the community and have relationships with people. Having an understanding of what autism is and being supportive … really creates a welcoming environment."
As part of the effort to increase awareness of autism, April has been designated as National Autism Awareness Month.
In 2018, the Centers for Disease Control estimated the prevalence of autism nationally at 1 in 59 children, up from 1 in 68 two years previously. The rate of diagnosis is higher in Minnesota at 1 in 42 children, according to a recent study in the Twin Cities area by the Minnesota-Autism and Developmental Disabilities Monitoring Network at the University of Minnesota.
For more information about M State's ASD certificate program, visit https://www.minnesota.edu/programs/autism-spectrum-disorder/.
M State's ASD program is financial aid eligible and can be completed in two semesters.