M State partners on Energy Careers Academy
Minnesota State Community and Technical College, Xcel Energy and the Minnesota State Energy Center of Excellence are working together to engage students with more diverse backgrounds in energy-related fields of study.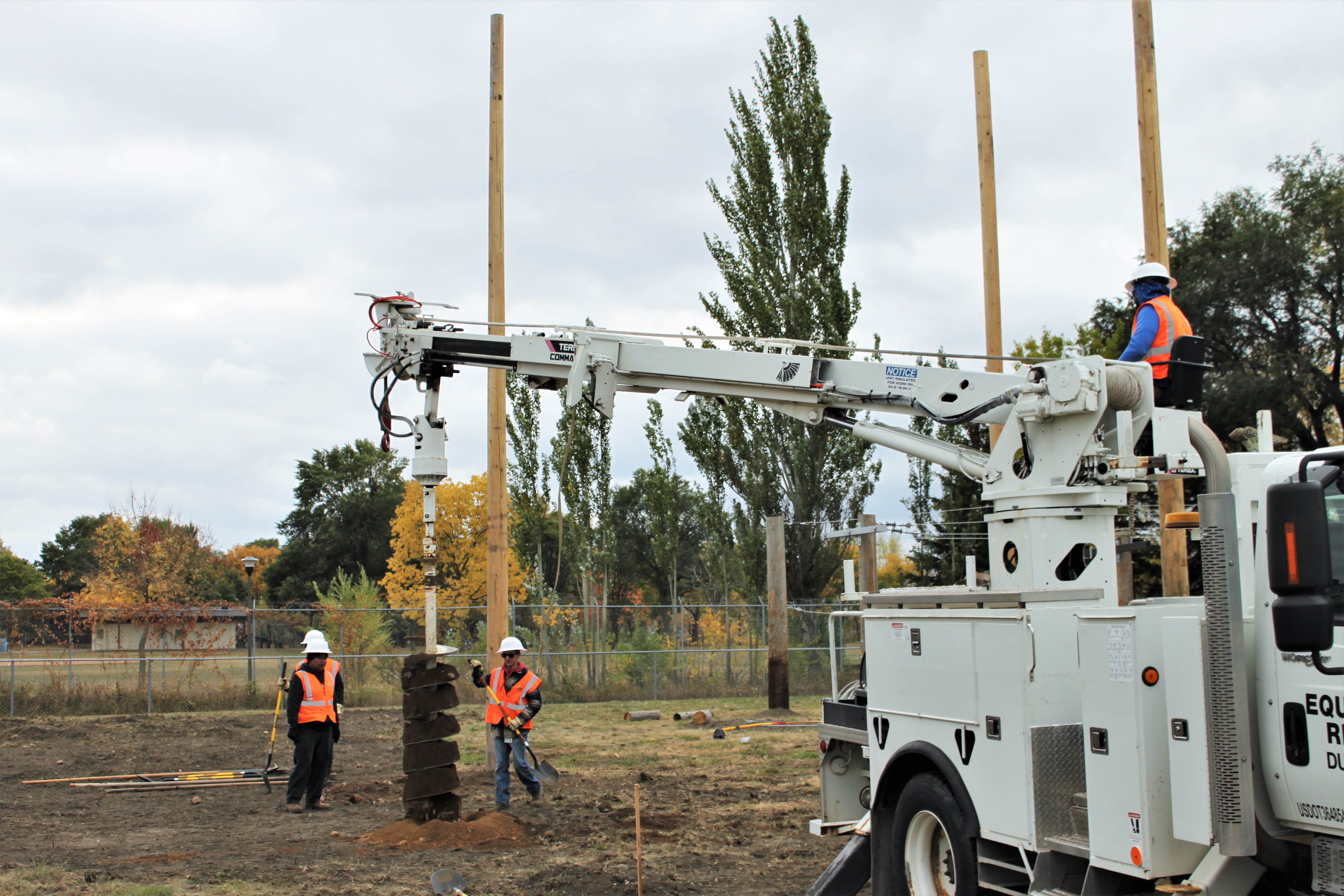 The Energy Careers Academy, launched earlier this fall, arose in response to a need from energy companies to attract new people to the industry and address a pending labor shortage. A 2020 report to the state Legislature showed that only about 10% of the industry's labor force is classified as ethnically diverse, and recommended the creation of new, inclusive training programs as one way to increase engagement and representation.
The Energy Careers Academy now offers one such training program in electrical linework, and plans are developing to offer a new gas utility construction and service program.
The programs are designed to be accessible to an urban student population, removing a potential geographical barrier: Energy-related educational programs are often offered at technical schools in rural communities; enrollment in the academy is targeted to students who live within the seven-county Twin Cities metro area.
Students at the academy receive hands-on instruction at Xcel Energy's metro-area training facilities.
"We're proud to be a partner in this effort to bring more opportunity to historically underserved student populations, and to bring them into a career field that offers stable, high-paying jobs to workers," said M State President Carrie Brimhall. "The goals of the Energy Careers Academy align with our mission at M State – to specialize in affordable and exceptional education, service, and workforce training. We welcome all students and engage them in shaping their futures and their communities."
M State provides the course curriculum, accreditation, and instructors for the academy programs, as well as student support and career prep services. Xcel Energy provides the training facilities, equipment and other soft skills training in addition to exposure to current Xcel Energy employees and leaders who hire for the positions the students are working toward. The Minnesota State Energy Center of Excellence is a key coordinator, providing general oversight and input to ensure the academy operates smoothly.
This is the first time the three entities have worked together on an academy of this sort. The hope is to expand the academy's offerings in the future to include longer-running, higher-credit diploma programs.
"Being able to launch this program is the culmination of seven years of planning and implementation of phases of the programs," said Bruce Peterson, Project Manager with the Minnesota State Energy Center of Excellence. "Bringing these educational opportunities closer to where our targeted populations live is a huge key to our long-term goals. It is incredibly gratifying to observe the students as they develop their skills and prepare to enter these technical fields."
Peterson said the Center of Excellence had initial conversations about the creation of an Energy Careers Academy with Xcel Energy in the summer of 2021. As the only college within the greater Minnesota State system to offer programs in both electrical linework and gas utility, M State was asked to join in as a collaborator.
The implementation of the Legacy professional development program for students is another key element of the Energy Careers Academy. Through the Legacy program, students participate in core skills training and develop professional skills for the workplace.
"The Energy Careers Academy will help train and support the next generation of clean energy workers and leaders at Xcel Energy and across Minnesota," said Chris Clark, President, Xcel Energy-Minnesota. "Developing and retaining a diverse workforce is important to us, and we're pleased that this program will remove barriers and provide access for more individuals interested in electrical linework and gas utility work."
The electrical lineworker program began in late August and has about a dozen students enrolled. The gas utility program is currently being developed and is expected to roll out in 2023.
M State serves more than 6,500 students in credit courses each year in more than 70 career and liberal arts programs online and at its campuses in Detroit Lakes, Fergus Falls, Moorhead and Wadena. By partnering with communities, the college also provides workforce development services and other responsive training programs.