M State has $230M annual economic impact, new study shows
Minnesota State, the system of 26 state colleges and seven state universities, released today the results of a study that estimates the economic impact of Minnesota State Community and Technical College, or M State, to be nearly $230 million annually. That figure includes a direct impact of $134 million and an indirect impact of $95.8 million. M State also supports and sustains 1,739 jobs, the study found.
"At M State, our top priority is the success of our students, but it is important to note that the college plays a vital role in both the state and regional economies," said M State President Carrie Brimhall. "Our operations and the economic activity generated by our faculty, staff and students touch virtually every corner of our regional economy, including education, hospitality, child care services and retail."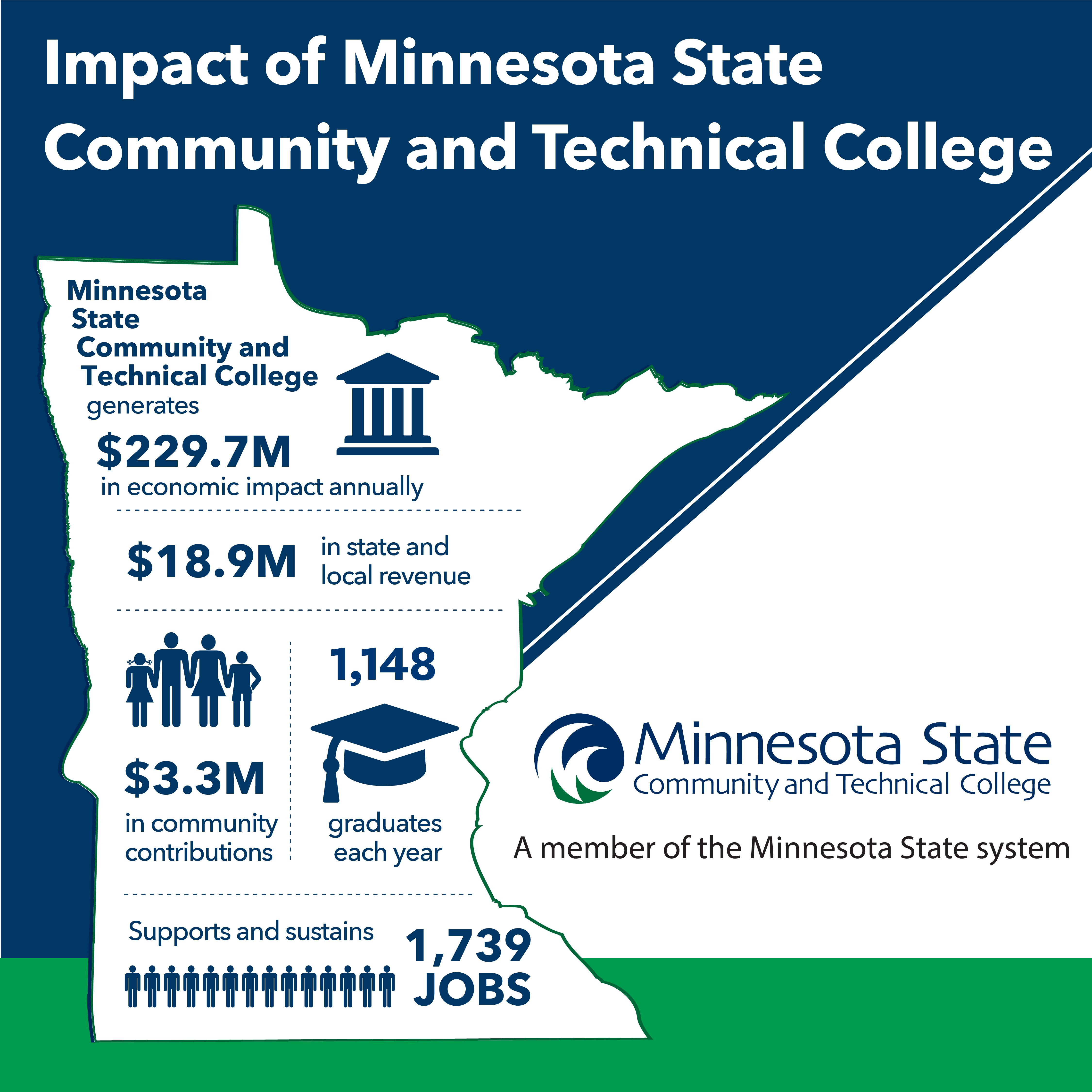 The study was commissioned by Minnesota State and was conducted by Parker Philips, a nationally recognized consulting firm specializing in economic impact analysis.
"An economic contribution analysis is an objective way to measure the significance of an organization in the regional economy; it is a useful tool that policymakers can use to inform their decisions," said Nichole Parker, president of Parker Philips. "The numbers speak for themselves — M State is clearly an important contributor to the regional economy."
In the analysis, the study considered M State's direct spending on operations, pay, benefits, and capital projects, as well as the estimated increase in demand for goods and services in industry sectors that supply or support the college. The study also measured the effect of student spending and the induced effect of increased household income.
Of M State's total $229.7 million annual economic impact, the study determined $81.8 million is generated by spending on operations and capital projects, while $147.9 million is generated by student and visitor spending.
The 1,739 jobs M State supports and sustains, according to the study, include direct employment by the college as well as indirect and induced jobs created by supply and equipment vendors, contractors and laborers for the construction and renovation of facilities, and jobs created in the community at hotels, restaurants and retail stores in support of the college's faculty, staff, students and visitors.
The study also calculated tax revenues generated by this level of economic activity – including sales, property, personal income and corporate income taxes – and concluded M State generates about $18.9 million in tax revenues for state and local government.
The study further estimated M State's impact in terms of charitable contributions by faculty, staff and students, determining these contributions to total $3.3 million every year in donations and volunteer services.
Statewide, operations at all Minnesota State universities and community and technical colleges plus the spending of all faculty, staff and students, had a total economic contribution of $8.4 billion in Minnesota. This activity generated an estimated 62,125 jobs in the state.
Access the full Minnesota State economic contribution report at minnstate.edu/impact.