M State gets creative with fall art courses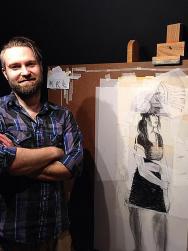 The ongoing pandemic has inspired a creative new way of teaching studio art courses at M State.
M State art instructor John Cox is taking four of his art courses totally online for the fall, but with a twist: He'll also be regularly meeting one-on-one via Zoom with students in each of the classes.
In addition, students enrolled in the four classes will be loaned a tablet with access to the Adobe Creative Cloud, the industry standard in digital art-making, at no cost. Cox said he intends to use both digital and traditional media "to artistically investigate our new and existing realities."
"In these uncertain times, I want to make a statement with certainty," he said. "I'm committed to the safety of everyone in our two-dimensional studio, and I'm dedicated to innovation in using a mixture of teaching strategies."
Participating students must enroll in all four studio art courses: Drawing I, Foundations of 2D Art, Introduction to Digital Photography and Introduction to Digital Imaging. Supplementary art materials for each class will cost less than $100 (not including textbooks) to keep costs low, and materials will be shipped by the college to enrolled students.
"I believe our character is defined by how we handle adversity," Cox said. "While I'm apprehensive about this new horizon, I'm also excited."
The four studio art courses are part of M State's Art Transfer Pathway Associate of Fine Arts degree, which is offered on the Fergus Falls campus. Offering the four fall studio art classes online also makes these art courses and the art program more accessible to students who aren't enrolled on the Fergus Falls campus.
For more information, students can contact Cox at john.cox@minnesota.edu, or enrollment manager Jessica Sem at Jessica.sem@minnesota.edu or 218.736.1549.