M State fall play, 'Arsenic and Old Lace,' is a classic, silly jaunt with a penchant for poison
Minnesota State Community and Technical College has set the stage for "a fun return back to live theater" on the Fergus Falls campus this fall with a presentation of the classic black comedy, "Arsenic and Old Lace."
Stefanie Gerhardson, M State Theatre faculty and director, said she's hoping the name recognition of the famous 83-year-old show, and its "humorous and spooky elements" – fitting for the Halloween season – will draw a crowd back to the Waage Theater after a couple of quieter COVID-19 years.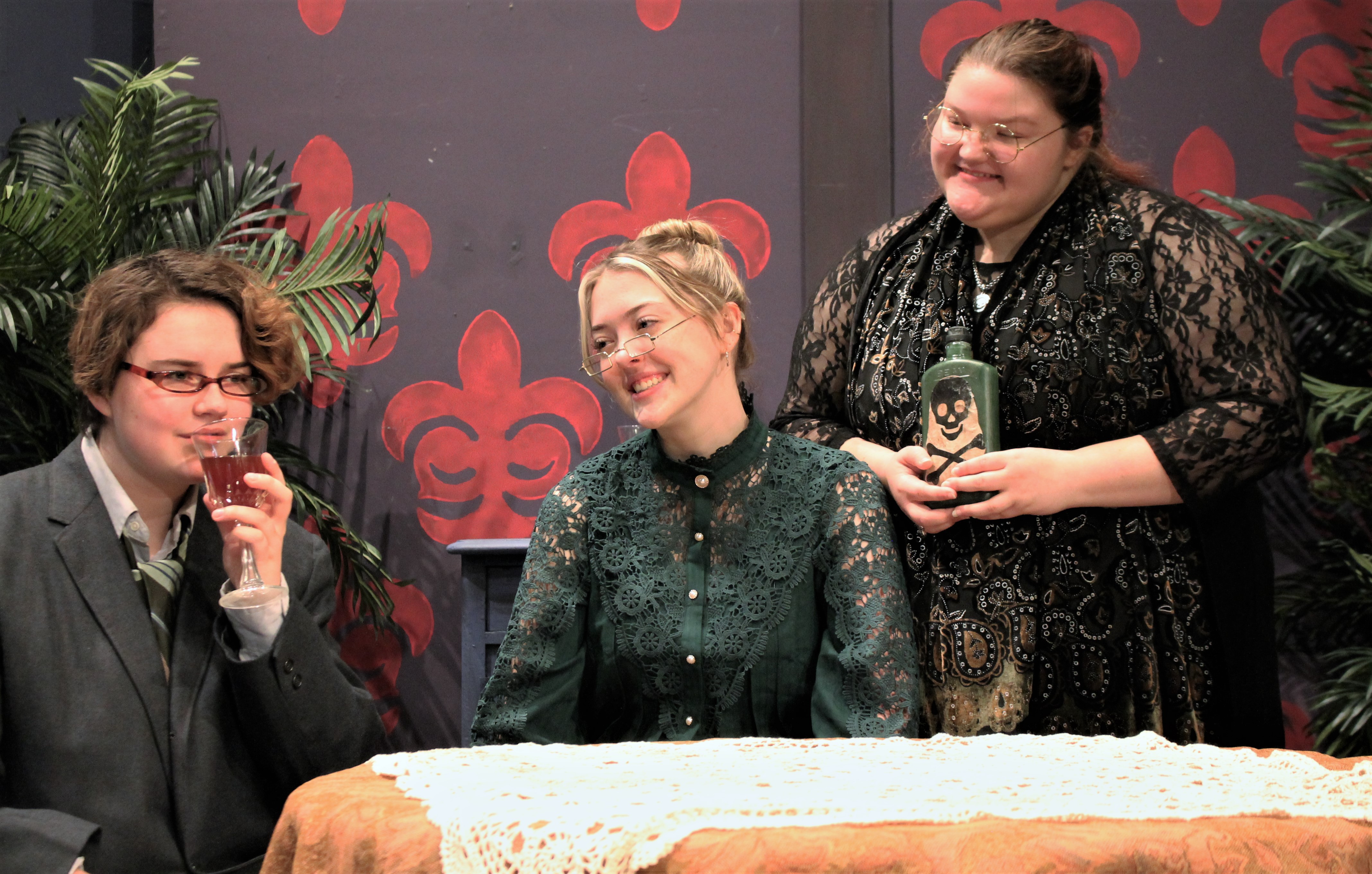 "'Arsenic and Old Lace' is a funny, engaging, classic comedy," she added. "We're excited to be back and doing live theatre, without the restrictions that were in place before. We've had a very faithful audience in the past and we look forward to seeing them again."
Written by American playwright Joseph Kesselring in 1939, "Arsenic and Old Lace" opened on Broadway two years after that and enjoyed long and successful runs both there in New York and at popular theaters in London.  It has since been performed on stages large and small all over the world. A film version starring Cary Grant was released in 1944, further cementing the show's fame.
The story revolves around the Brewster family, a uniquely deranged bunch made up mostly of homicidal maniacs. An exception is Mortimer Brewster, the hero of the play, who struggles to deal with his murderous family and can't decide whether he should go through with his plans to marry the girl he loves, a minister's daughter who lives next door.
Key to the plot are two elderly aunts, Abby and Martha Brewster, who appear sweet and charming but, as it turns out, have a penchant for poisoning lonely old men. Their toxic brew of choice? A glass of homemade elderberry wine laced with arsenic, strychnine, and "just a pinch" of cyanide. There's also Mortimer's brother Teddy, who believes he is Theodore Roosevelt, and another brother, Jonathan, a murderer who uses plastic surgery to conceal his identity from police.
The M State production features M State students and alumni in the cast. Devin Cordahl, of Park Rapids, plays the lead role of Mortimer, and Grace Liebl, of Elbow Lake, and Maezyn Haugen, of Fergus Falls, step into the homicidal shoes of Abby and Martha.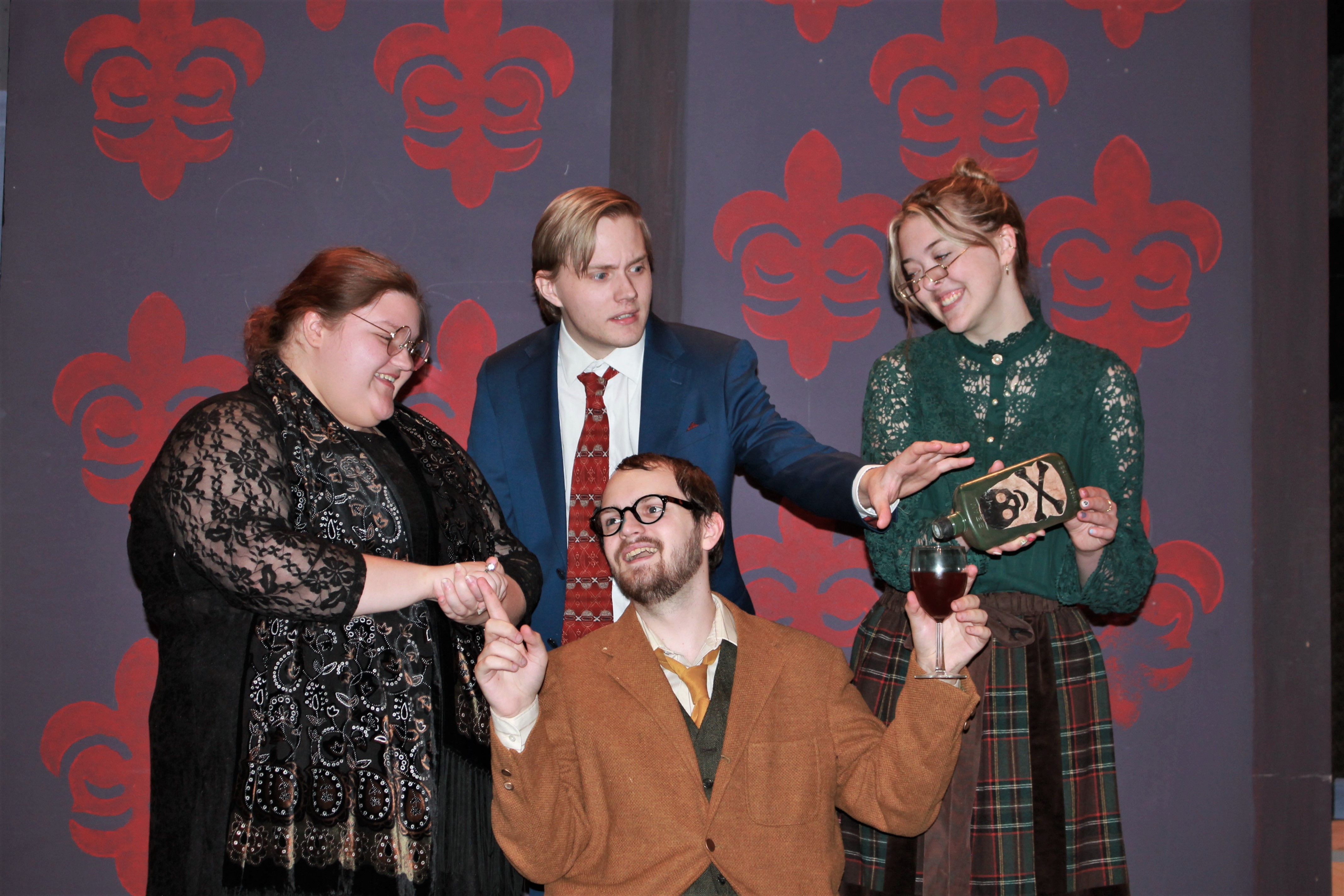 Additional cast members include Austin Hess-Jensen, of Fergus Falls, as Teddy Brewster; Aiden Sodsod, of Fergus Falls, as Jonathon Brewster; Andrew Rasmusson, of Fergus Falls, as Dr. Einstein; Mariana Pevestorf, of Fergus Falls, as Elaine Harper; Faith Nord, of Fergus Falls, as Mrs. Harper/Lt. Rooney; Brodie Sandford, of Battle Lake, as Officer O'Hara; Alex Hensel, of Park Rapids, as Officer Brophy; and Danny Robb, of Fergus Falls, as Gibbs/Mr. Witherspoon.
Additional M State students are engaged in behind-the-scenes roles as stage managers, light and sound technicians and set crew members. James Stenger, a former student at M State, is helping with the set, lighting, and other technical aspects of the show.
Students have been rehearsing every day, for two to three hours a day, for several weeks in preparation for the performance. Performance dates are:
Friday and Saturday, Nov. 4-5, 7:30 p.m.

Friday and Saturday, Nov. 11-12, 7:30 p.m.

Sunday, Nov. 13: 2 p.m. matinee
Tickets are available online at mstate.universitytickets.com, through the M State Bookstore at 218.736.1556, and will be sold at the door. Ticket prices are $11 for adults and $5 for students in advance; and $14 for adults and $5 for students at the door.