M State collaborates on first-ever HEART Camp for high-schoolers
This article was originally published in the Wahpeton Daily News with the headline, "Young women learn where the heart is." It is republished here with permission.
By Frank Stanko, Wahpeton Daily News
Seven young women from North Dakota and Minnesota took part in the first-ever HEART (Healthcare, Education, Adventure, Research and Tours) Camp, held Sunday, July 10-Tuesday, July 12 on the campus of North Dakota State College of Science in Wahpeton.
The HEART Camp was held in collaboration with Sanford Health and M State, which has campuses in locations including Moorhead and Fergus Falls, Minnesota. The camp was available to high school juniors, seniors and recent graduates interested in health careers and wanting to further explore career options that require a two-year degree.
"We're trying to show them that there are terrific careers in the healthcare field, that require a two-year degree or less, right in our area," said Susan Munyer, a senior career development consultant. "They can stay here, if they're comfortable with that and want to do so, and have a great career."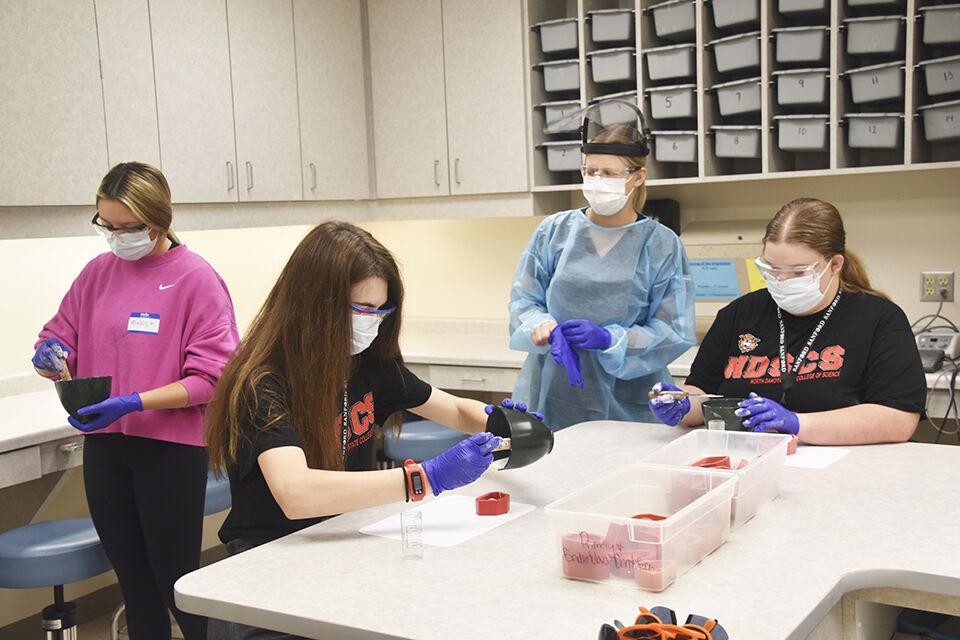 This year's participants included:
• Brooke Davis, grade 12, Wyndmere Public School, Wyndmere, North Dakota
• Josie Johnson, grade 12, Breckenridge High School, Breckenridge, Minnesota
• Nevaeh (Ashe) Rosenbury, grade 11, Central Cass High School, Casselton, North Dakota
• Alexandria Lade, grade 11, Central Cass High School
• Madison Cameron, grade 11, Battle Lake Public School, Battle Lake, Minnesota,
• Hadley DeTienne, grade 12, Stanley High School, Stanley, North Dakota
• Maddison McCarthy, grade 12, Powers Lake High School, Powers Lake, North Dakota
While this year's HEART Camp members happened to be entirely female, all students are able to tour, learn and experience hands-on activities in various career paths including nursing, occupational therapy assisting, pharmacy tech, emergency medical services, dental assisting and hygiene and health information.
"Everything we do is hands-on," Munyer said. "We want to get them here and experiencing things like internally stopping the bleeding from a simulated wound. That was so cool."
"They delivered an infant by using a patient simulator," Dana Davis, another senior career development consultant, said.
"There was no hesitation. They all jumped right in," Munyer said.
Whether the participants learned how to react in an emergency situation, make dental impressions or engage in professional, HIPAA-compliant workplace behavior, the watchwords were "behind the scenes." All seven students were able to explore health-focused academic programs through hands-on activities, as well as in actual clinic, lab and hospital settings with current healthcare professionals.
"We are so fortunate to have Sanford as a partner," NDSCS Vice President for Student Affairs and Strategy Dr. Jane Vangsness Frisch said. "We are able to provide incoming students the opportunity to experience what they'll be learning in our allied health areas, but because of Sanford's partnership they actually get to engage with current professionals in real-world healthcare settings."
Jess Novotny served as counselor for the HEART Camp participants.
"I go to college here at NDSCS and while I've been around this campus, I haven't seen the variety of learning opportunities offered, including for pharmacy tech and occupational therapy," Novotny said. "This camp not only gives me insight into these careers, but the younger kids as well."
Dr. Ken Kompelien, previously of NDSCS, is the dean of M State's school of health sciences, human services and nursing.
"This has been a great experience for the campers. It's also been a great experience for the two colleges. The two-year community and technical colleges in this region are working to recognize the needs in healthcare. They are tremendous," Kompelien said.
Kompelien is among the people anticipating many years of HEART Camps.
"HEART Camp is such a great opportunity for us to introduce our younger population to all of the variety of health careers that are out there," Vangsness Frisch said. "Really, it's helping all of the students understand different careers and all the different paths with those careers."