M State campus named a Bicycle Friendly University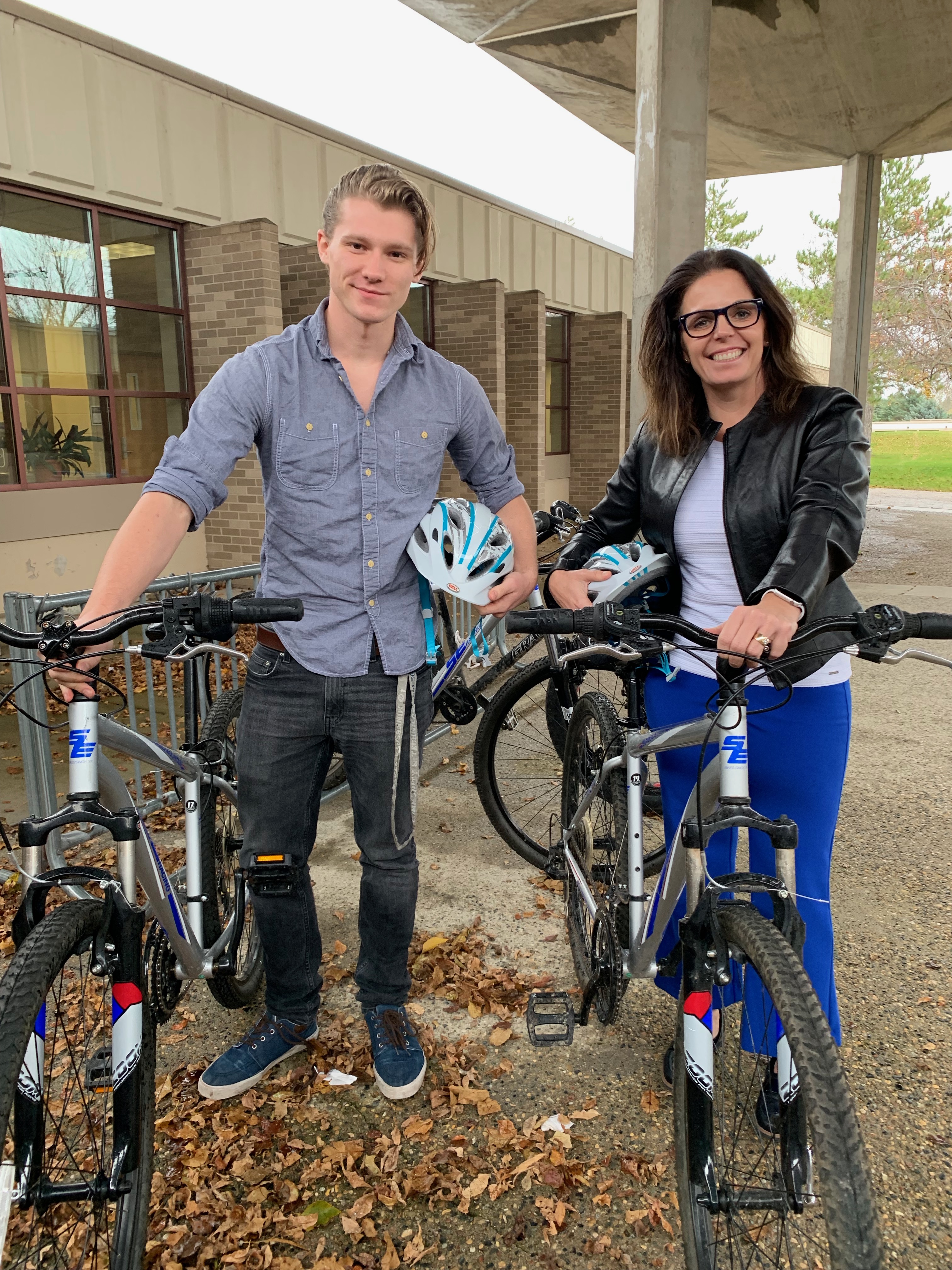 After starting a free bike-share program, M State's Fergus Falls campus has been recognized as a Bicycle Friendly University by the League of American Bicyclists. M State is the first two-year college in the state to win the designation.
The campus, which also was the smallest of the 48 colleges recognized nationally this year, was honored along with Bemidji State University.
M State President Carrie Brimhall, an avid cycler who has led campus students on community bike tours in Fergus Falls, said that the campus is "proud of our connections to our community and our commitment to wellness. This recognition reflects those values, and we are very excited about it."
The Bicycle Friendly University program recognizes colleges and universities for promoting and providing a more bikeable campus for students, staff and visitors.
Dave Jensen, student life director on the Fergus Falls campus, led M State's efforts to earn Bicycle Friendly University certification and said the award is "a big step for our campus."
"Hopefully we can serve as an example for other rural campuses as to what's possible with limited time and resources," Jensen said. "It's an honor to be recognized for the strides we've made in accommodating cyclists and pedestrians."
The Fergus Falls campus bike-share program kicked off this fall after a poll taken by a campus biking advisory committee found that fewer than 20 percent of the students on campus had access to a bicycle. The college responded by piloting a bike-share program that makes three bikes available free of charge to Fergus Falls campus students, staff and faculty.
"Even though it's still in its infancy, the program has been very well received," Jensen said.
Natalie Gille, Greater MN program manager for BikeMN, said places of learning like M State and BSU are really hotbeds of possibility when it comes to biking and walking, and I'm thrilled to see their hard work recognized at the national level."
The community of Fergus Falls also has been recognized for its support of biking, earning the Bicycle Friendly Community designation from the League of American Bicyclists, and more than a dozen local businesses – including the Fergus Falls Police Department – have been recognized as Bicycle Friendly Businesses.
Along with M State and BSU, Minnesota's Bicycle Friendly Universities are Macalester College, University of Minnesota Twin Cities, Concordia College and Minnesota State University Mankato. Minnesota State University Moorhead earned honorable mention in this year's rankings.
Pictured: Fergus Falls campus Student Government Association President Jeremiah Kratzke and M State President Carrie Brimhall with bicycles acquired for the campus bike-share program.