Empty Bowls fills crucial need in community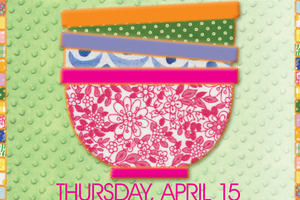 After a one-year absence, the ever-popular Minnesota State Community and Technical College Empty Bowls is returning at a time when need for the fundraiser has never been greater.
This won't be the traditional Empty Bowls – it won't be at the college, and guests truly will get an empty bowl. But one thing isn't changing: The event will continue to benefit the Fergus Falls Salvation Army, which has seen its food needs soar more than 1,000 percent since the COVID-19 pandemic began.
"I always thought the 15th Empty Bowls would be something special, and here we are," said M State pottery instructor Lori Charest, whose students create the bowls that are featured in the fundraiser, with assistance from former students and area artists.
This year's socially distanced Empty Bowls is set for 10 a.m. to 2 p.m. and 4:30-6 p.m. Thursday, April 15, at A Center for the Arts in downtown Fergus Falls.
Charest said AC4TA graciously invited the college to use its backstage doors. Guests can enter through one back door, choose a bowl from a display on the center's stage and exit through a second back door. Parking is conveniently located in the city parking lot directly behind ACFTA, and the Fish Factor food truck will be serving shrimp, chicken and beef tacos for purchase during the event.
Pre-pandemic, guests at Empty Bowls were served soup in the pottery bowls they'd selected in M State's Legacy Hall. This year, for a suggested donation of $20, guests will get the bowl of their choosing and a recipe for chicken wild rice soup, a perennial favorite at the Empty Bowls event.
In its previous 14 years, Empty Bowls has raised just under $60,000 for the Salvation Army food program, and this year the support is needed more than ever.
"Our need for food has increased drastically," said Lynn Verhaagh, community relations director at the Salvation Army. In a normal year, the organization distributes just over 600 food boxes a year. Since April 1 last year, when the pandemic began in earnest, the Fergus Falls non-profit has distributed more than 12,000 food boxes, an increase of more than 1,500 percent.
Verhaagh said the Salvation Army provides hot "to-go" meals for people when they pick up food boxes and also delivers these meals to elderly shut-ins in Fergus Falls. They typically serve about 6,000 to-go meals a year but provided 1,200 this February alone.
"I'm glad we can offer this modified version of Empty Bowls this year when the need is so great," Charest said. "It is such a good example of using art to benefit the community."