Criminal Justice students gain experience, build connections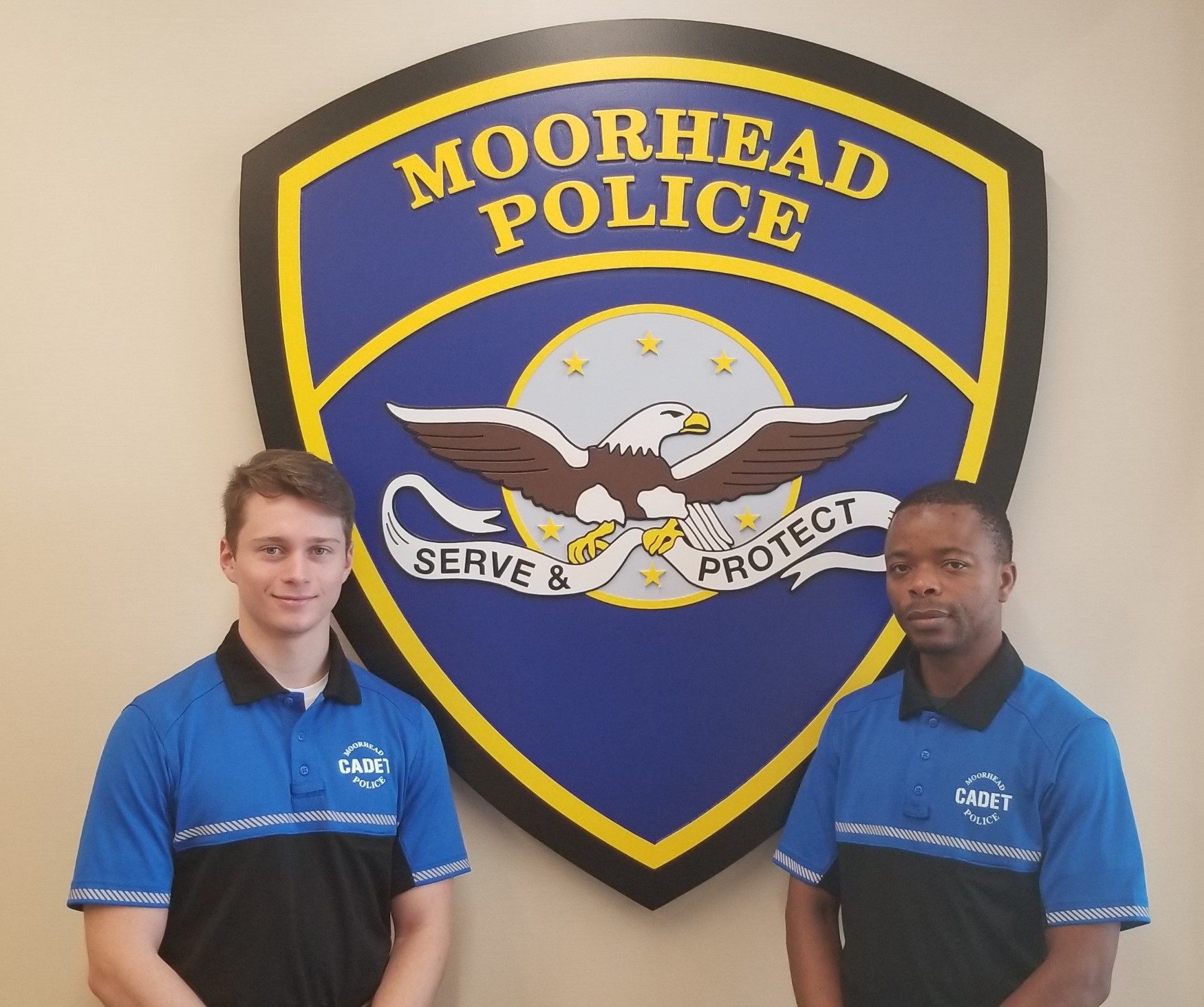 Five months as a Moorhead Police Department cadet have convinced Nathan Wambach that he made the right choice when he chose to major in Criminal Justice at M State.
"The cadet program is a great introduction to a career in law enforcement," Wambach said. "We cadets get to use the same computers and radios as police officers, and we get to respond to non-emergency types of calls. We are getting experience working with people in the community where we may work as officers someday."
Wambach is a second-year student in the Criminal Justice program at M State's Moorhead campus, which is building its connections with the Moorhead Police Department through both the Moorhead Police Cadet Program and through the recent addition of four new hires – all M State graduates – to the ranks of the department's 36 patrol officers.
"We have a strong relationship with M State, having a former officer, Jeff Nelson, heading up (the Criminal Justice program)," said Moorhead Chief of Police Shannon Monroe. "(The college) is right here in our backyard, and I instructed there for three years, so I was seeing the quality of candidates from right here in our region who we should be recruiting."
There are currently four students in the cadet program, and three of them – including Wambach and classmate Sam Mukanya -- are either graduates of or current students at M State. Cadets are paid, and their work hours are arranged around their school schedules.
The cadet program was launched this past summer. Both Wambach and Mukanya said they learned about it from Nelson, who coordinates and teaches in M State's Criminal Justice program.
"Right away I was interested because I'm looking at a career as a police officer," Wambach said. Mukanya, too, anticipates that his participation in the cadet program "will help a lot" with his goal of becoming an officer.
"What surprised me a lot is the organization within the department, the amount of work waiting for officers and the sacrifices that are required to become a police officer," Mukanya said. "This is an amazing program and exposes you to what police work looks like."
Monroe said the cadets provide valuable support to his officers at a time when they are short of staff while also offering valuable experience to the students.
"We wanted to create a relationship with (students) that we hope will lead to them becoming a part of the department so we can be better informed on our policing practices and reflect our city's growing diversity in the department," he said. "It creates a stronger trust within more of our community, and we hope to retain these employees rather than losing those that we recruit from elsewhere."
In addition to recruiting M State Criminal Justice students for its cadet program, the Moorhead Police Department's newest class of full-time hires is comprised of four M State graduates. Sgt. Chris Martin said the four are currently in training, with their swearing in set for February.
By hiring M State graduates, Martin said, the department gets officers who are already familiar with Moorhead and who have friends and relatives nearby who can be a support system during their training.
"M State's Criminal Justice program has done an excellent job recruiting a diverse student population that represents our community," Martin said. "It's obvious that not only does the program prepare the students to be successful, but Jeff (Nelson) takes the extra steps to prepare them to be good applicants and to do well during the hiring process."
Since he started working as a cadet, Wambach said, "I have gotten to know Moorhead a lot better. I was surprised there were some areas I was unfamiliar with and some named streets that I had no idea where they were. Being from Moorhead, I thought I knew the whole city.
"I am very thankful that I was given an opportunity to work for the Moorhead Police Department as a cadet. It has been a great experience."
Following completion of M State's 60-credit Criminal Justice degree, graduates can enroll in the 12-credit Skills Training course taught at Alexandria Technical College. They are eligible for licensing in Minnesota after successfully completing Skills Training and passing the Peace Officer Standards and Training exam.