Assignment sparks enthusiasm for non-profit's work with children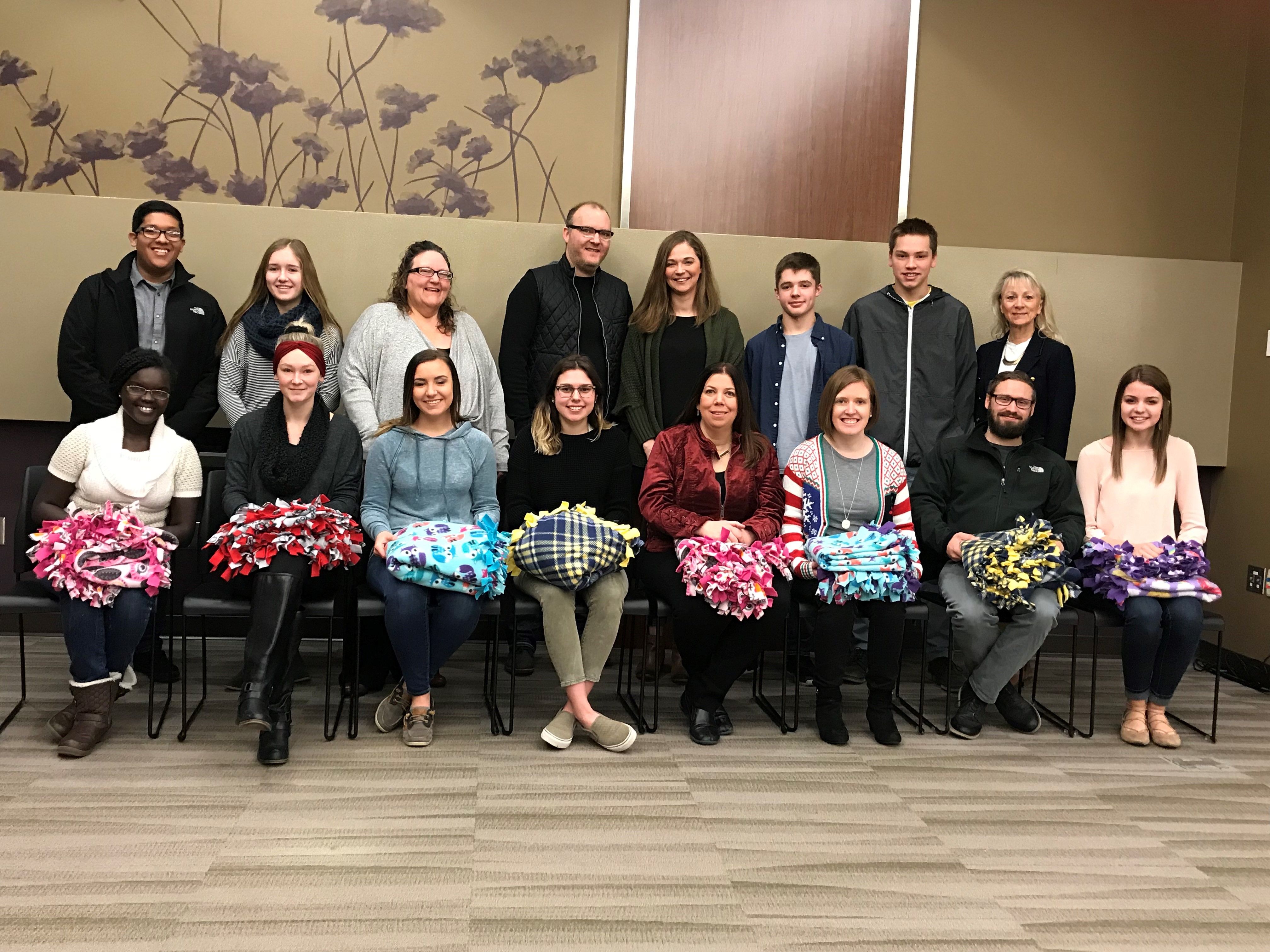 A fall semester business class assignment at Minnesota State Community and Technical College turned into a mission with a lasting impact on an area non-profit that helps young child abuse victims.
Each year, students in Sherrie Holmquist's Advertising and Promotions class – taught on M State's Moorhead campus – are assigned the task of developing a promotional campaign for a local non-profit organization that they've chosen.
Holmquist said the assignment both introduces students to career opportunities at non-profits and develops the critical thinking skills that employers value in the workplace.
During the past fall semester, her students picked Project Ignite Light as the focus of their class project. The mission of the non-profit, based 80 miles northwest of Moorhead in Rogers, N.D., is to provide a "Bag of Hope" to children who are brought to local advocacy centers and hospitals to be examined for physical abuse, sexual abuse and neglect.
Each bag gives the children, who are often taken from their homes without any of their clothing or belongings, basic and comforting items including a fleece tie blanket, pajamas, socks, underwear, a toothbrush and toothpaste, fruit snacks, a book and a flashlight. The organization serves children in Minnesota and in North and South Dakota.
Kelly Bischof, a student in the Advertising and Promotions class, learned about Project Ignite Light several years ago when founder Pebbles Thompson spoke at an area mothers' group that she attended.
"Their cause really touched my heart because I have three young children of my own," said Bischof, who initially suggested Project Ignite Light for the class project.
Working in small teams, students researched the organization, identified promotional challenges that they thought they could solve, and then created a ready-to-use campaign that was presented to the group's director, Pebbles Thompson, and her husband, Darin.
"The most worthwhile (part of the project) was knowing that what you're coming up with might actually make a difference," said Michelle Driscoll, whose team developed a Project Ignite Light flyer that could be embedded in an email and gathered email addresses for two dozen banks and public relations departments that could be approached for funding.
But the project turned into more than an assignment for Holmquist's students, who were inspired by the organization's mission. Bischof and her husband, Tim, donated fleece, and the two dozen students gathered one morning in a campus lounge to cut, assemble and tie eight blankets for the Bags of Hope. Rachel Cose, a student in the class, received a $500 donation from her employer, Gate City Bank, to contribute to Project Ignite Light. A third student, Cameron Moos, arranged for a free night's lodging for the Thompsons at the hotel where he works.
After coming to class to see the students' promotional campaign, the Thompsons were invited back and surprised with the blankets students had made and the donations they'd collected.
Non-profits tend to have limited resources for marketing and advertising, Pebbles Thompson said, so the class project was a win-win. Project Ignite Light came away with marketing ideas, and students had the experience of creating a low-cost promotional campaign. But, Thompson said, "we were most excited to see how so many were compelled to get involved first-hand to help our organization."  
"It is a lot of fun to work on something you know will help make a positive impact in the community," Bischof said. "You could feel that excitement within the classroom all semester."
For more information about Project Ignite Light, visit www.ignitelight.org.
Pictured: Advertising students presented the eight blankets they made to Darin and Pebbles Thompson (back row, center) of Project Ignite Light.