High School Partners Program
Program Purpose and Goals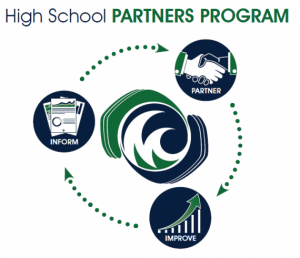 M State's High School Partners Program is a collaboration between the college and select Minnesota high schools to increase the academic preparedness and college readiness of regional students. The program is unique in that cohort data is shared annually with the high schools on which pathways their graduates have chosen, as well as how their graduates perform academically at M State. The program strives to have each high school's needs drive the nature of the partnership, placing the college's personnel, services and other resources for the high school's use whenever possible.
History of the Program
During the summer of 2017, M State Vice President of Student Development Services Peter Wielinski and K12 Collaboration Manager Megan Adamczyk met with superintendents and principals at 18 high schools in west central Minnesota to discuss opportunities to partner in telling the stories of student success experienced at the high schools and at M State, and to identify opportunities to strengthen the college preparedness and readiness of regional high school graduates.
M State's vision is "a success story for every student and stakeholder," and 16 of the 18 regional high schools approached signed on to become the founding members of the M State High School Partners program.
Each of the 16 high schools in the initial cohort of this program is defining the specific opportunities they see in this partnership to improve student success, and early discussions have focused on a wide range of possibilities including data sharing, career exploration activities, financial aid workshops, campus visits and parent orientations.
The M State region is host to some of the finest high schools in the state. We're proud to partner with the 16 high schools depicted in the following pages, excited to work more closely with their teams and pleased to be able to share the successes experienced by graduates from our partner high schools as they continue their studies at M State!
Associated Downloads:
Founding Members
Dilworth-Glyndon-Felton High School
Kennedy Secondary School (Fergus Falls)
2018-2019 New Partners
Workforce Development Scholarship
Students graduating from one of M State's 22 High School Partners in 2018-2019 and enrolling in specific M State programs may be eligible to apply for a Workforce Development Scholarship of at least $2,500.
With M State's full-year tuition and fees starting at $5,361, the scholarship would cover nearly half of your tuition! Scholarships are available for students entering the high-growth, high-demand career fields of advanced manufacturing, agriculture, health care and information technology.
Click here for more information.