About housing terms and fees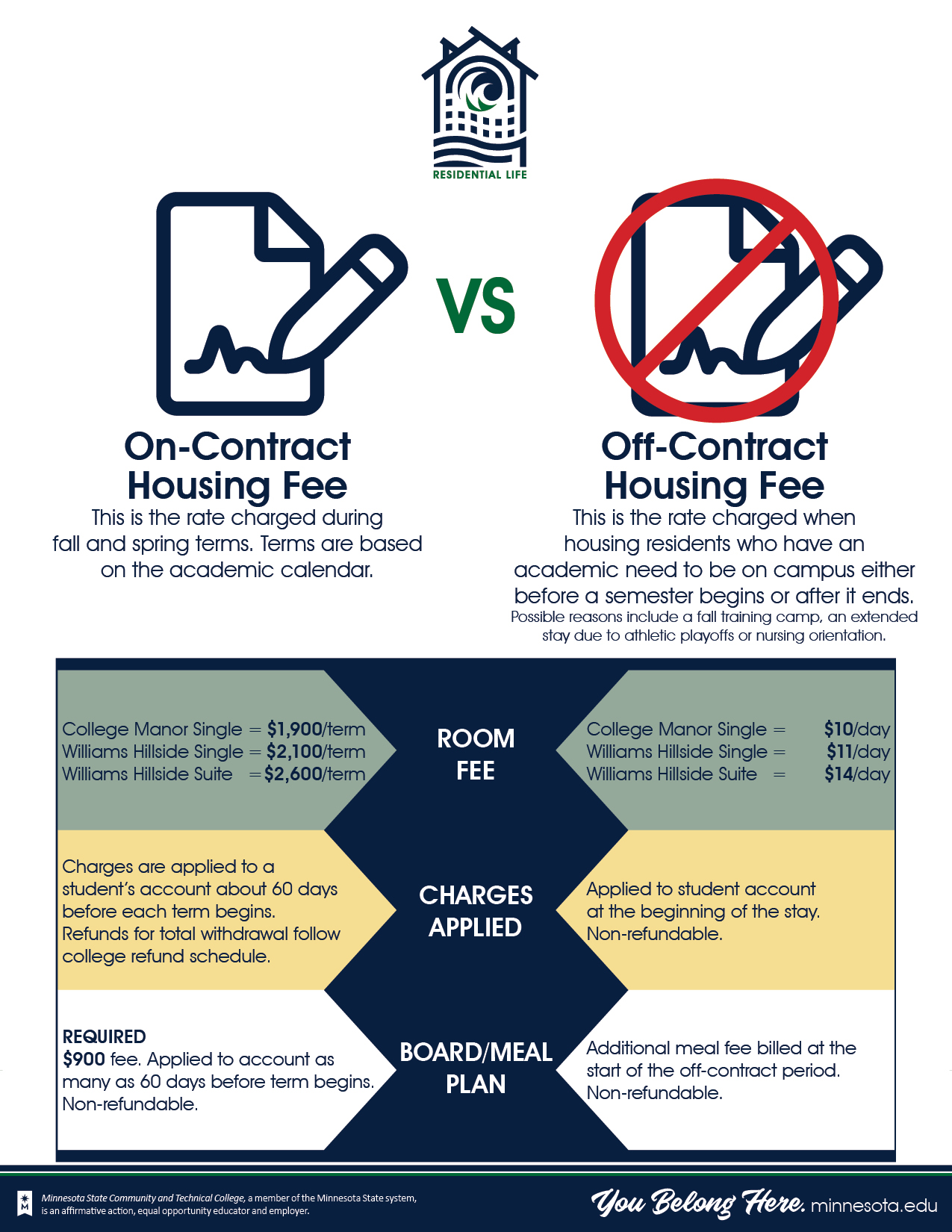 In all cases, the stated housing fee covers the academic term dates found in the academic calendar.
Sometimes student residents need to arrive before a term starts or leave after a term ends. This is an off-contract stay. In these cases, a reduced daily rate is charged in addition to the academic term housing fee. Click here to see 2021-2022 daily fees charged when not "on contract."
Apply here for M State Fergus Falls campus housing.
College Manor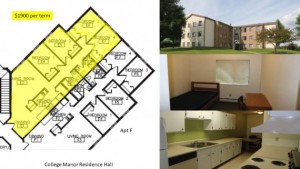 College Manor is a three-story building with 22 apartments, each a four-bedroom, two-bath unit. Students have a private bedroom and share a bath with one other apartment mate. The four residents of each apartment share an in-unit dining room, kitchen and living room.  
College Manor offers students access to the Spartan Lounge and computer lab in the building. Students who reside in College Manor have a longer distance to travel to campus, but they are still close enough to walk, although the walk can be less comfortable during the winter months. College Manor apartments are close to city amenities in Fergus Falls and have secure access to the building, with entry gained with a key fob.
There are two laundry rooms in College Manor that are free and available for student use.
Housing fee
$1900 per term for single room with shared bath
Williams Hillside Village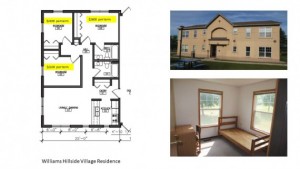 Williams Hillside Village is a four-building complex, with each building containing four apartments. Each apartment has three bedrooms, a kitchen and two bathrooms. There are two single-occupancy rooms with a shared bath and one single-occupancy room with a private bath.
Williams Hillside Village apartments are a short walk from the main campus building and provide students with quick access to campus for classes and activities. Students who live in Williams Hillside Village have secure access to the building with a key fob. Williams Hillside Village residents may also access the Spartan Lounge and computer lab in College Manor with their key fob.
There are two laundry rooms in Williams Hillside Village that are free and available for student use.
Housing fee
$2100 per term for single room with shared bath

$2600 per term for single room with private bath
Meal plan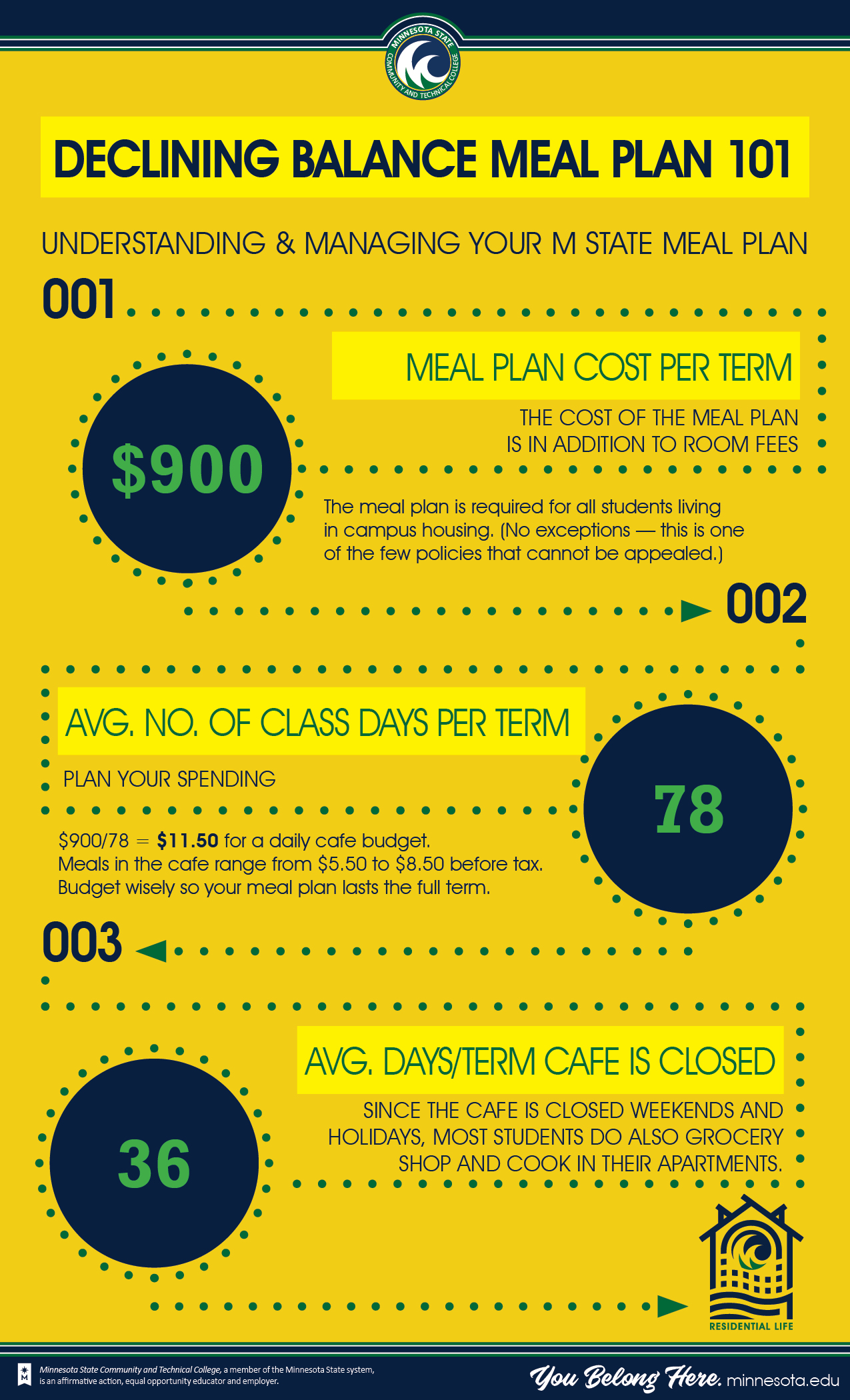 Each term (fall and spring), all residents of M State housing are required to purchase a $900 declining balance meal plan to be used in the campus cafeteria.
Your fall term unused balance rolls over from fall to spring. Any spring term unused balance is forfeited to the food service contractor.
The cafeteria is not open on weekends, when campus is closed or when there are no scheduled classes. Students will need to supplement their cafeteria meals program with meals they prepare in their apartments.
Room inventory and condition report
Complete the Room Inventory and Condition Report as you walk around during your move-in. You must submit the Condition Report within three days of moving in to remain compliant with your housing contract. Take your time and be thorough.
Previous resident and staff forms will be compared to the one you complete upon move-in. If there is damage to college property beyond what is considered normal wear and tear and that damage was not documented in your move in report nor is it found on any other report, then appropriate repair or replacement fees may be billed to your student account upon check-out.
Missing Person Policy and registration form
This policy establishes procedures for M State's response to reports of missing residents, as required by the Higher Education Opportunity Act of 2008. For the purposes of this policy, a resident may be considered a missing person if the resident's absence is suspiciously different from their usual pattern of behavior or unusual circumstances may have caused the absence. Visit Missing Person Policy to review the policy and to complete your emergency contact registration form.