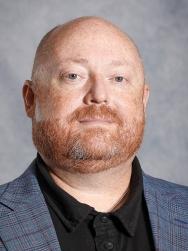 (218) 299-6535 - Moorhead
Shawn Anderson joined M State in 2006 as dean of student services for the Moorhead campus, and in 2012 he was named to the college-wide position of dean of students. His role includes providing strategic leadership for academic advising, enrollment growth, enrollment/admissions, financial aid, housing and residential life, student conduct and student engagement/life.
His previous employment in higher education includes positions as a graduate assistant at Central Connecticut University; house advisor for residential life at Vassar College; assistant director of administration and resident director of residential life at the University of Hartford; and associate dean of student services and director of student services at Albertus Magnus College.
Anderson earned his M.S. degree in Educational Leadership at Central Connecticut State University and a bachelor's degree in Mass Communication from Minnesota State University Moorhead.
He is a graduate of Luoma Leadership Academy and completed the Clery Act Compliance Training Academy, and in 2016 Anderson was awarded M State's Distinguished Service Award.
Contact