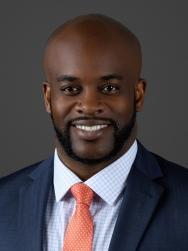 Vice President of Academic and Student Affairs
(218) 299-6504 - Moorhead
Dr. John Maduko joined M State in December 2019. As Vice President of Academic and Student Affairs, he provides leadership across divisions with respect to the team of Academic Affairs and Student Affairs deans, curricular programming (academic transfer and technical) and innovation, co-curricular programming, student services, enrollment management, learning assessment and accreditation, institutional assessment and effectiveness, athletics, residence life, libraries, and faculty hiring, support and professional development.
Prior to joining M State, he served as the Vice Chancellor of Student Affairs at North Central Texas College from 2017 to 2019. In that capacity, he was the chief student affairs and chief enrollment officer for NCTC's six-campus community college district. Before that, he served as NCTC's dean of health sciences and dean of eLearning. He also served as an academic dean for Rasmussen College's Tampa Metro campuses and began his tenure with the college as a department chair and associate professor of health sciences. Additionally, Maduko was an allied health department chair with EDMC and a visiting professor with Mountain State University and Hillsborough Community College.
Maduko recently served the Texas Community College Instructional Administrators as president-elect and the board of directors for the United Way of Denton County and the Greater Denton Arts Council. He currently volunteers his time with the American Conference of Academic Deans as a member of its Board of Directors and its Governance & Board Development Committee.
He holds a B.S. in biology from California State Polytechnic University Pomona and an M.D. from St. Matthew's University School of Medicine.
Contact