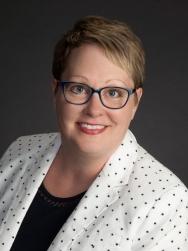 (218) 299-6817 - Moorhead
Dean of Health Careers Jennifer Jacobson joined M State in 2003 and was appointed to her current position in 2013.
Her previous academic experience includes teaching practical and associate degree nursing students in the classroom, laboratory and clinical settings, and BSN clinical for an area university.
Jacobson's academic administrative experience includes developing new programs, supporting accreditation in multiple health programs and serving on multiple strategic planning initiatives and the M State Academic Affairs and Standards Council, as well as providing oversight and mentorship for the faculty and staff who support the health career programs.
In 2010, she received a National Institute for Staff and Organizational Development award and in 2016 was awarded the M State President's Award for Excellence.
Jacobson currently serves on the North Dakota Council for Developmental Disabilities and the CNEA Initial Program Application Subcommittee, and she is a CNEA on-site peer evaluator and a Special Olympics volunteer.
She has previously participated in U.S. Sen. Al Franken's Rural Healthcare Round Table discussions, state Sen. Karin Housley's Aging and Long-Term Care Policy Committee listening session and U.S. Sen. Tina Smith's Workforce Round Table. Her local, state and regional committee service has included Healthcare Action Committee for the Greater Fargo Moorhead Economic Development Corporation, Fargo-Moorhead First Responder's Breakfast Club, Minnesota State University Moorhead Healthcare Sector Breakfast, Minnesota Statewide AD/PN Directors Group, Fargo Moorhead Clinical Facilities and Academic Faculties Collaborative.
She earned bachelor's degrees in home economics from North Dakota State University and nursing from Minot State University, and a master's degree in nursing from University of South Alabama. Her special area of interest in nursing is congenital or acquired disabilities.
Jacobson also is a certified 235-hour yoga instructor, is Reiki Level II certified and enjoys "anything artsy" – sewing, painting, drawing and photography.
Contact