Evidence Library - April 2018
Evidence Library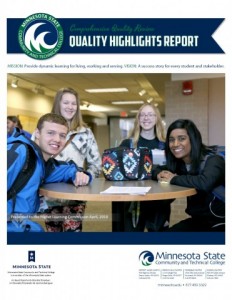 Introduction
M State is a comprehensive public two-year college with campuses in Detroit Lakes, Fergus Falls, Moorhead and Wadena. M State is a member of the Minnesota State system.
Institutional Documents and Links
Note: M State Magazine and M State News are the two primary publications the College uses to communicate with internal and external stakeholders. M State Magazine is distributed to over 100,000 regional households. M State News is published internally for employees. A wide array of articles tell the M State story including, but not limited to: student and employee success stories, initiatives with external partners, strategic planning, and updates on student success metrics, accreditation and the budget. Below is a sampling of the newsletters. Some articles specific to criteria feedback have been extracted from the newsletter and used as supporting documents in other sections of the Evidence Library.
Commitment to Continuous Improvement: Examples
M State used feedback from its 2013 systems appraisal, strategy forum participation and AQIP Action Projects to improve processes and results and to support the development of additional quality initiatives. Examples include:
Distinguished Achievement Award - Enhancement of the employee recognition program to include formal acknowledgment and tracking of significant goal achievements

Budget Process - Strategic alignment of funding requests with the College's mission and goals through a comprehensive budget development process

Concurrent Enrollment Program - Building relationships with K12 partners through continued efforts and measuring the results through the use of surveys
Institutional Documents and Links
Associated Downloads:
Commitment to Continuous Improvement: AQIP Action Projects
Accredited institutions that follow the HLC AQIP Pathway use Action Projects to build a culture of continuous improvement and to document quality advancement initiatives. M State currently has two active Action Projects and one submitted for review.
M State AQIP Action Projects:
Assessment of Student Learning: Analyzing and Refining (Active)

New Student Orientation: From a One-Time Event to an Ongoing Support Experience (Active)

Preparation for Nursing Accreditation Candidacy with NLN/CNEA (Pending Project Review)
Institutional Documents and Links
Addressing Strategic Challenges
M State is committed to addressing strategic challenges. Some examples that illustrate the College's ability to succeed in reaching its mission, planning and overall quality improvement include, but are not limited to:
Core Ability Assessment

Developmental Education Redesign

Higher Learning Commission Assessment Academy

Institutional Effectiveness Council

Key Performance Indicators - Title III Grant

SMART Goals Incorporated in Strategic Planning

Strategic Communications Process

Student Data - Learning Outcomes and Persistence and Completion

Student Support Initiative
Institutional Documents and Links
Core Ability Assessment - See documents in the Commitment to Continuous Improvement: AQIP Action Projects section
Criteria for Accreditation Additional Evidence
The following documents and links provides additional evidence in response to M State's 2017 Systems Appraisal Feedback Report for Criteria for Accreditation and Core Components that were "adequate, but could be improved" or "unclear or incomplete".
Criterion 1. Mission
1.A. The institution's mission is broadly understood within the institution and guides its operations.
The Minnesota State system and M State use strategic planning processes to guide operations and track progress in meeting the system's and the institution's mission, vision and values. Examples of data used to measure planning outcomes include:
Key Performance Indicators (KPIs)
Minnesota State System Accountability Dashboard Metrics
Personalized Assessment of the College Environment (PACE) Surveys
Strategic Planning SMART goals
1.C. The institution understands the relationship between its mission and the diversity of society.
M State values excellence, integrity, respect and innovation, which include a culture of diversity and inclusiveness and responsiveness to communities served. The College identifies new and emerging stakeholder groups through the Strategic Diversity and Inclusion Plan and an internal employee proposal process. Input has led to improved retention of students of color, new partnerships and employee professional development diversity initiatives. Examples include:
Ruby's Pantry
Women's Foundation of Minnesota Grant
Professional Development Diversity Initiatives
Voices, Values, Vision Professional Development Series
The World within Reach: A Better ELL Experience in the Classroom
1.D. The institution's mission demonstrates commitment to the public good.
M State uses its mission to advance the public good and is responsive to external stakeholder needs. Examples include:
Foundation Merger
High School Partners Program
Workforce Center
Institutional Documents and Links
1.A. Minnesota State system - Strategic Framework
1.A. Minnesota State system - Charting the Future
1.C. Schmidt, Helmut. "M State Working on Food Distribution Program to Prevent Student Hunger". INFORUM. May 7, 2017
1.C. Price, Kaysey. "Welcome to Ruby's Pantry". DL-Online. Dec. 6, 2017
1.D. Huber, Kristi. "How Innovative Collaborations Bridge the Gap". Fargo INC! Jan. 2018
1.D. Workforce Development Open House Video
1.D. Workforce Development Scholarships
Criterion 3. Teaching and Learning - Quality, Resources and Support
3.B The institution demonstrates that the exercise of intellectual inquiry and the acquisition, application and integration of broad learning and skills are integral to its educational programs.
The College uses the following to guide, improve, measure and evaluate student learning outcomes:
M State and Minnesota State system policies
Academic Affairs and Standards Council
Minnesota State system Transfer Pathways
Advisory Committees
Core Ability Assessment
Program Review (see 4.A.)
3.D. The institution provides support for student learning and effective teaching.
M State is committed to providing support for student learning through comprehensive services and uses several processes, methods and metrics to evaluate each service's effectiveness. Some examples include:
Advising NACADA Consultation
Career Services Strategic Planning and Reports
Disability and Accommodation Services Process
Information Technology Processes, Services and Reports
Tutoring Metrics
3.E. The institution fulfills the claims it makes for an enriched educational environment.
Student learning outcomes for co-curricular programs and activities align with M State's mission and support the College's vision of a success story for every stakeholder by encouraging students to explore and develop their unique interests and talents. Co-curricular programs are assessed by using:
Core Ability Alignment

Results of State and National Competitions

Student Participation in Performances, Events and Competitions

Student Government Association Affirmation Process
Institutional Documents and Links
Criterion 4. Teaching and Learning - Evaluation and Improvement
4.A. The institution demonstrates responsibility for the quality of its educational programs.
The College uses data from the following to evaluate the quality of programs and identify areas of improvement:
Course Surveys
Licensure Exam Pass Rates
Program Review
Program Accreditation
Student Employment and Transfer Data
4.B. The institution demonstrates a commitment to educational achievement and improvement through ongoing assessment of student learning.
The following is used to assess student learning at M State:
Advisory Committees
Assessment Action Plans
Co-Curricular Assessment
Core Ability Assessment (see 3.B.)
Course Surveys
Internship Assessment
Program Outcome Assessment
4.C. The institution demonstrates a commitment to educational improvement through ongoing attention to retention, persistence, and completion rates in its degree and certificate programs.
M State sets institutional targets for persistence, retention and completion and tracks them using the Minnesota State system's accountability dashboard. Furthermore, internal college-level and campus-level targets are set for persistence-to-first-spring and retention-to-second-fall.
Institutional Documents and Links
Criterion 5. Resources, Planning and Institutional Effectiveness
5.C. The institution engages in systematic and integrated planning.
Evaluation tools M State uses to evaluate its planning process:
Alignment with the College's Mission, Vision and Values
Alignment with the Minnesota State System's Strategic Framework
Comprehensive Program Review
Minnesota State System Accountability Dashboard
Operational Plans
Stakeholder Input in Planning Process
Zero-based Budget Process
5.D. The institution works systematically to improve its performance.
M State works systematically to improve performance, developing and documenting evidence of its performance and operations, and learning from operational experience to improve effectiveness and sustainability by using academic and strategic enrollment management plans, external benchmarks and Key Internal Benchmarks. Data-informed processes can be seen in the following examples:
Title III Grant

Developmental Education Redesign

Information Technology Resources
Institutional Documents and Links
5.C. Minnesota State system - Charting the Future Framework and Recommendations